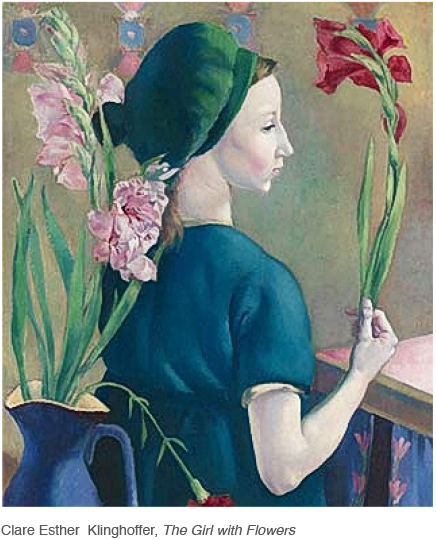 One of the most exciting aspects of the ever-growing interest in 20th century British art is the opportunity it offers to rediscover significant, but neglected, talent of the period. For those with a keen eye and prepared to look beyond the mere 'big' names, there really are some impressive things out in the market place.
Such works, of course, also have the added bonus, more often than not, of falling into the category of affordability. Founded some 14 years ago, and trading by appointment from bases in London and the South of France, Liss Fine Art Ltd, have built up a reputation of homing in on some of these little-known masters. This flair was exemplified in May when the firm produced a splendid and informative illustrated catalogue which, while offering paintings by familiar names such as Frank Brangwyn (1867-1956) and Eric Ravillious (1903-1942), also features less iconic artists.Take, for example, Clare Esther Klinghoffer (1900-1970), whose oil on canvas The Girl with Flowers [is included in the catalogue]. Measuring 3 ft 6in x 2 ft (1.06 x 61 cm) and painted when she was at the Slade in 1920, it is a key early work and was exhibited that year at the Goupil Gallery alongside works by Augustus John, Matisse and Lucien Pisasarro. Even in such illustrious company, it was singled out by the critics, with the Daily Express declaring Klinghoffer as the new "girl genius of the Slade". Jacob Epstein considered her "an artist of great talent, a painter of the first order…in the very first rank of draughtsmen in the world".
Today Klinghoffer's work is represented in major public collections, including the Tate and the V1A. Liss Fine Art were asking £16,000 for this portrait and, unsurprisingly, it proved an early seller.
I understood Klinghoffer's son, Michael Laurence, is producing a monograph on her. On publication, it could well bring about a major resurgence for her painting.