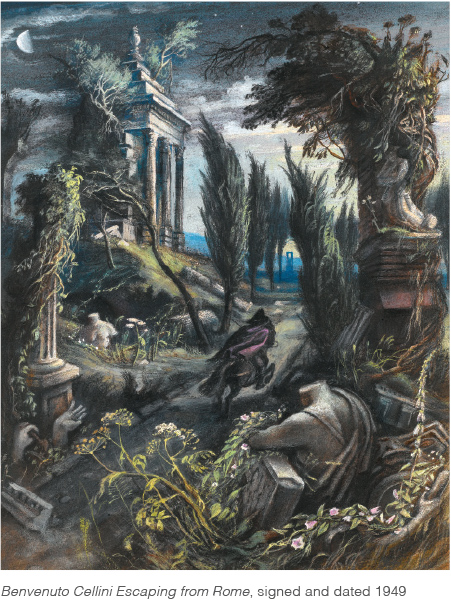 By William Packer
The Rome Scholarship still sends painters to study at the British School at Rome. Its original intention was that students might profit by exposure to the great art of the past, and in particular to the great mural schemes of the Renaissance, and that decorative schemes in the public sphere at home would be thereby encouraged. Many of our libraries, schools, hospitals and civic offices benefited. A concise study exhibition at the Soane Museum in Holborn is given to the Rome Painting Scholar of 1928: Alan Sorrell.
Sorrel's mural for the HMS Compania, the boat that toured the country's ports during the Festival of Britain, Working Boats from Around the British Coast, has miraculously survived in its entirety. Exigencies of space, however, mean that only its two end panels can be shown in this welcome exhibition. So this time it is left to just two hearty Old salts, each with his bevy of pert young mermaids, and one or two preparatory drawings for other schemes, to represent this major aspect of Sorrell's work. The complete mural is a decorative masterpiece, in a entirely proper sense. At once robust and whimsical in both handling and spirit, it is a delight.
Sorrell was much more than just a specialist in the mural. Rather, the show, drawn mostly from his family's archive, concentrates on his graphic work, and in particular his work as an illustrator, in which field he had no less distinguished a career. His reconstructive archaeological and architectural illustration regularly appeared in the Illustrated London News. The surprise is to see that the approach he made his own in these reconstructions, of the high bird's eye view over such subjects as the Tower of London in Norman Times, the vanished cathedral of Old Sarum, Silchester or Roman London, all on show here,had developed quite naturally from the aerial views over airfields, camps and military installations, that he drew and painted during his wartime service withe the RAF.To coincide with this exhibition, Sacha Llewellyn and Alan Sorrell's son, Richard, himself a notable painter, have edited a symposium on his father's work, its several contributors each dilating on a particular period or aspect, all fully illustrated in colour (Sansom & Company: 208 pages: paperback: £25). In its introduction, Richard says that his father "was conscious of Modernism…but he seems never to have been drawn towards the great movements….his instinct was towards narrative painting, and he stayed with his beliefs with a stubbornness and determination that amounted to heroism. As the tide of fashion flowed more and more strongly against representational painting, he seemed to gain strength by opposing it."
Perhaps so, yet to say as much, as Richard himself half acknowledges, is perhaps to say too much. For what we see, even within the comparatively small scope of this exhibition, is that Sorrell too was never anything but an artist – and a modern artist at that – of his time. He may have come to feel at odds with the world, yet his transition from his days as an early Renaissance classicist at the British School at Rome to a mid-20th century Neo-Romantic, is natural and unaffected. The close affinity his work bears to that of so many of his contemporaries, not as a follower in any sense, but on equal if idiosyncratic terms – from Ayrton and Minton to Ravilious, Bawden, even the young Keith Vaughn, and to Piper too, in certain aspects – is clear.Richard wonders why his father, who continued painting until his death at 70 in 1974, "was not more recognised and successful". The answer can only lie with myopic prejudice that prizes avant-garde innovation above all else. "It is time to put such absurdity away, and to see the remarkable quality of Alan Sorrell's drawing and painting for what it is…and rejoice in its quality." Amen to that.
Alan Sorrell – A Life Reconstructed: Sir John Soane's Museum, in Lincoln's Inn Fields, London, until January 25, 2014.