Natural Bedfellows
The love of nature shared by the artist Charles Mahoney and his wife Dorothy is celebrated in a new exhibition. Here, their daughter Elizabeth Bulkeley describes how the influential couple nearly never met.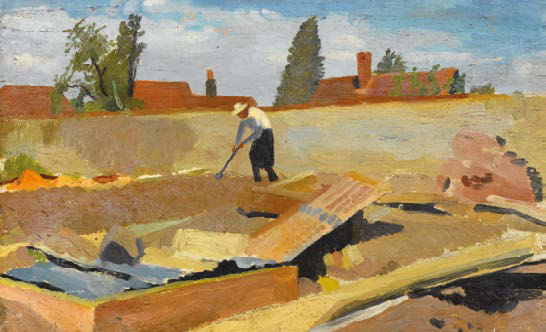 Charles Mahoney, The Allotment, Wrotham, (detail) late 1930s
Charles Mahoney (1903-1968) and Dorothy Bishop (1902-1984) were both teachers at the Royal College of Art (RCA) in London when WWII broke out. Had the college not been evacuated from South Kensington to Ambleside in the Lake District in 1940, it is unlikely they would ever have met. In those days unwritten boundaries existed between the fine art department and the design school. Charles was a painting tutor, while Dorothy was in charge of calligraphy in the design school. With the outbreak of war, senior female teachers and men unable to take part in active service (having lost an eye in childhood, Charles was exempt) were part of the evacuated school.
By the time their paths crossed in Cumbria both Charles and Dorothy were established artists in their own right. As well as a mutual attraction they greatly valued each other's professional abilities. Charles appreciated Dorothy's warmth and charm, respecting her as someone at the top of her career. Dorothy admired his skill as a painter and muralist, and was impressed by his intellect.
EARLY DAYS
Charles and Dorothy's backgrounds were not dissimilar. Both came from impoverished, middle-class families. Charles' father, William, was the son of a wealthy builder who lost his money, leaving his son no choice but to work as an untrained engineer. The family struggled and three of their seven children died in infancy. Charles rarely spoke about his childhood afflictions which included losing an eye in a tussle with his brother over some scissors.
When he left school his parents sent him to work in a bank – a profession he hated. Luckily, money was found to allow him to attend Beckenham School of Art. Early portraits of family and friends showed his ability as a draftsman, which was developed later in his paintings and mural work, for which many studies were made in sketchbooks. In later life, he concentrated mainly on his plants, using different pens, washes, charcoal, or pencils to capture the essence of each. From Beckenham, he won a scholarship to the RCA under the principal, Sir William Rothenstein, and developed his love for mural painting. He returned to the RCA in 1927 as a painting tutor and, in 1928, along with Edward Bawden and Eric Ravilious was commissioned by Sir Joseph Duveen to paint the mural The Pleasures of Life for Morley College in Lambeth. It was his first major commission; but completely destroyed by a bomb in 1940. He was not able to discuss this, but it was a terrible blow.
DOROTHY BISHOP
Dorothy was born in Wednesbury, in the industrial Midlands, the eldest of three children. She attended the local elementary school where she excelled at copying engravings. After leaving school, she worked in an office where she was so miserable her parents agreed to let her attend West Bromwich School of Art. There she won a scholarship to the RCA where she studied wood engraving, weaving, embroidery, book illustration, dress design, pottery and calligraphy. At the RCA she was taught by Edward Johnston, considered the father of modern calligraphy, who was so impressed by Dorothy's skill he appointed the first-year pupil as his assistant, recognising her fine calligraphic hand, with exceptional control and rhythm. She worked exquisitely on vellum, a capricious natural medium that requires expert handling.
CAMPION HALL MURALS
Shortly after their marriage, in 1942, Charles was offered a commission to decorate the walls of the new Lutyens' Lady Chapel at Campion Hall, Oxford. It was the RCA principal Sir William Rothenstein who put him forward for the job, describing him as him "the best colourist he knew". It was a major commission, which, divided by teaching, was to last several years.
MOVE TO KENT
Charles had purchased Oak Cottage, in the Kent village of Wrotham at the start of the war, as a home for his mother away from the London bombing. The house was cheap and in poor condition, and Charles carried out much of the renovation work himself. In the process his health (already compromised from childhood diptheria) deteriorated further. He enjoyed choosing secondhand furniture, while the walls were adorned by their friends' paintings. Charles added a garden studio for himself, constructed from war-time ammunition cases. I was born in 1944 and, at the end of the war, Charles and Dorothy started family life at the cottage. Dorothy, who had grown up in the industrial Midlands, was also enchanted by Oak Cottage. She decorated the home with ceramic ornaments and colourful woven fabrics, and created a workplace for herself in an upstairs room with a skylight to illuminate her desk.
LOVE OF NATURE
Both Charles and Dorothy shared a great love of gardening and plants, both wild and cultivated. By creating a flower garden, studio and orchard, Charles generated his ideal landscape. He had a passion for garden flowers and he acquired an enchanting collection of plants. In growing plants for groundcover, choosing rare and statuesque perennials, from sunflowers to giant hemlock, and helping to reinstate the old shrub roses, Charles was ahead of his time. Dorothy admired his skill in creating such a unique garden and loved to make flower arrangements. She had a talent for painting in miniature on vellum, and painted the wild flowers she found on walks.
DOMESTIC LIFE
To ensure a regular income, both Charles and Dorothy taught part-time, at the RCA until 1953 and then at Bromley, Maidstone and Woolwich Schools of Art for two or three days a week. Dorothy's need to teach and look after the cottage meant that she did not produce as much work as other women calligraphers, who could either afford help or were not married. Most married women at that time were expected to put domestic and childcare roles before anything else. Charles was well aware of the difficulties faced by married women, and thought that, ideally, women artists should not marry to protect their professional careers. Yet his poor health meant that he had not the stamina to assist with the housework. Charles died in 1968 at the age of 64. Fortunately, Dorothy's health was much more robust, and she was able to live at the cottage for a further 20 years. After 'retirement', aged 65, she taught two evening classes a week at the Stanhope Institute, Queen's Square, London until she was in her late 70s. Her patience and professionalism lasted a lifetime, and even at the age of 80 she published the book The Craft of Calligraphy.
---
The GOLDEN COUPLE
Paul Liss, from the gallery Liss Llewellyn, which specialises in the unsung heroines and heroes of British art from 1880 to 1980, considers the importance of Mahoney and Bishop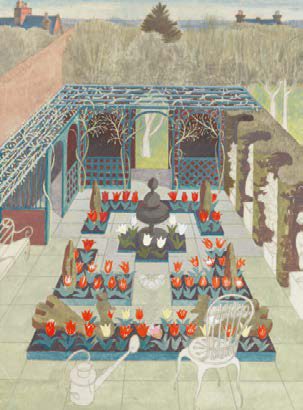 Dorothy Mahoney, Walled Garden Amongst Kentish Orchards, early 1950s
Mahoney and Bishop were part of a golden generation of students (many of whom also became teachers) at the Royal College of Art (RCA) during the interwar years. Alongside the RCA artists that everyone has heard of, such as Edward Bawden, Eric Ravilious, Henry Moore, Barbara Hepworth, John Piper and others, there was another group of exceptional artists including Mahoney, Barnett Freedman and Evelyn Dunbar who today are less well known. The reason for this is not always discernible. RCA principal, John Rothenstein, recalled in his memoirs that the two RCA students that most stuck in his mind in terms of genius were Henry Moore and Charles Mahoney. Who knows what posterity has in store for these less well-known artists? Many were every bit as highly regarded as their contemporaries in their own day, but have since disappeared from view. For instance, when Mahoney worked alongside Bawden and Ravilious on the Morley College murals his work was both larger and took centre stage. And though Ravilious today is more famous than Barnett Freedman, it was the latter who enjoyed a higher profile in his lifetime.
RCA DOMINANCE
In the early 20th century it was students at the Slade School of Fine Art (including Stanley Spencer, Mark Gertler, CRW Nevinson, Paul Nash and Dora Carrington) who were famously described by their professor of drawing, Henry Tooks, as a "crisis of brilliance". In the 1920s, it was the RCA's turn with what Nash, then a part-time tutor in the design school, referred to as "an outbreak of talent" to describe the remarkable collection of artists who studied there in 1923-1924. The women from this period, as with most artistic movements, have been more forgotten. The deficit this has produced is finally being addressed with, for instance, Evelyn Dunbar – who collaborated with Mahoney on a mural at a school in Brockley and, in 1936, co-produced the book Gardeners' Choice – now receiving critical attention. Similarly, Dorothy Bishop has yet to be given the level of acknowledgement she deserves, despite the fact she was recognised by her RCA tutor, Edward Johnston, as the only assistant he ever trusted.
RETURN TO NATURE
There may be one reason why the interwar artists, characterised by their love of nature, are experiencing a burst of popularity – the lockdown. A recent exhibition at the Garden Museum, which only ran for half its intended time, definitely struck a chord. It celebrated a group of artists who, between the wars gardened, taking their activities as plantsmen and plantswomen as seriously as they took their art. We have seen a similar turning back to nature in response to the current pandemic crisis today. Work by Charles Mahoney and Dorothy Bishop featured in the exhibition Sanctuary: Artist- Gardeners 1919-1939 at the Garden Museum Lambeth, in partnership with Liss Llewellyn, can be viewed at www.gardenmuseum.org.uk and www.lissllewellyn.com. The couple is also one in an online series Artistic Couples, including Winifred Knights, (1899-1947) and Sir Thomas Monnington (1902-1976), which can be seen at www.modernbritishartgallery.com.
August 2020 issue of Antique Collecting magazine