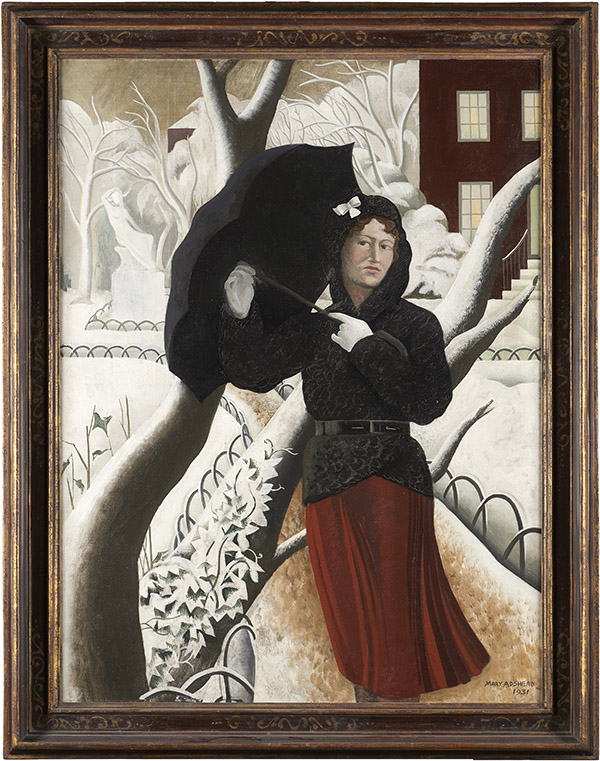 Mary Adshead (1904-1995), Portrait of Marjorie Gertler, 1931.
FIFTY FEMALE ARTISTS IN THE FRAME: GALLERY HOLDS EXHIBITION DEVOTED TO WORKS BY WOMEN IN THE FIRST HALF OF THE 20TH CENTURY
By Frances Allitt
"When I was putting this exhibition together, a lot of people thought I would not be able to find 50 different women British artists to show. In the end, I could have shown 500," says Sacha Llewellyn of 20th century British art specialist Liss Llewellyn.
She is the mind behind Fifty Works by Fifty British Women Artists 1900-1950, now on at The Ambulatory in London's Mercers' Company.
Running until March 23, it is designed as a "corrective" to the typically male-dominated art historical narrative and includes paintings, sculptures and prints by artists from the well-known (such as Wilhelmina Barns-Graham and Winifred Nicholson) to the under-represented or almost forgotten.
Each work is accompanied by commentary from a different contemporary mind such as Lara Wardle of the Jerwood Collection, former lawyer and crime author Frances Fyfield, dealer Rupert Maas and actor Griff Rhys Jones, writing on one piece lent from his private collection.
Half of the remarks were written by men, in an attempt to have a more gender-balanced view. All help to give a slightly different perspective on these artworks, their subjects and their creators, famous or obscure.
"It's not just about rounding up lost heroines," Llewellyn says. "It's about rewriting their stories." Following the show, a selection of the works will be on offer – the dealership's standard, if unusual, model. Those interested in purchasing pieces in the collection can visit the Liss Llewellyn website to see a complete list.
Many of the works address the turbulent times of those 50 years, sometimes indirectly.
Portrait of a Jewish Refugee (c. 1939) by Phoebe Willetts-Dickinson (1917-78), for example, is part of her effort to draw attention to the situation of German Jews in the late 1930s. It shows a solitary figure squeezed onto the edge of a stage. Willett-Dickinson was a pacifist, a Deacon in the Church of England and a social justice campaigner who eventually spent six months in jail for civil disobedience. Isobel Atterbury Heath (1908-89), on the other hand, worked as an illustrator for the Ministry of Information. Her oil of a Royal Navy Mine Sweeper in Dry Dock (c. 1940) records an accomplishment in British military technology. Elsewhere there is a lithograph of an Italian Convoy by First World War artist Olive Mudie-Cooke and a portrait of Captain Pauline Gower of the Women's Air Transport Auxiliary (c. 1940) by Ethel Gabain. "So many of these women were involved in the issues of war in their art, even when they weren't official war artists," Llewellyn says. The wartime picture Necessary Bandages (c. 1942) by British surrealist Emmy Bridgewater (1906-99), for instance, shows the artist heavily bandaged after being wounded apparently in love rather that battle.
A study by Mutual Art earlier this year suggested that there is an enduring imbalance in the way that male and female artists are seen by the market. It reported that, of the top 100 artists whose works reached the highest amounts at auction in 2017, only 13 were women (Yayoi Kusama, Louise Bourgeois and Joan Mitchell topped that chart).
But in 2018, a year marked by the centenary of female suffrage in the UK as well as the #MeToo movement, Llewellyn says that there is a "fashion" for celebrating the works of female artists.
Indeed, there have been a number of shows featuring female artists at major institutions this year: Frida Kahlo at the Victoria and Albert Museum, Tacita Dean at the Royal Academy of Arts, and Modern Couples, which showcased a series of husband-and-wife artistic pairings, at the Barbican. And, Llewellyn says, "when you're trying to stage an exhibition, calling attention to an unknown woman is a lot easier than an unknown man".
However, it is women associated with groups such as the Surrealists or the Vorticists, she adds, who are the most straightforward to introduce. Those working alone, or even those creating pioneering works, are the ones who tend to get lost. These often need the work of a dealer or researcher to return to the fore.
For buyers, the show is a chance to get to know the women making art in the first half of the 20th century, to recognise where they fit in a larger story and either add works to a collection or find new names to follow on the market.
(This article appeared in The Antiques Trade Gazette on December 15, 2018)