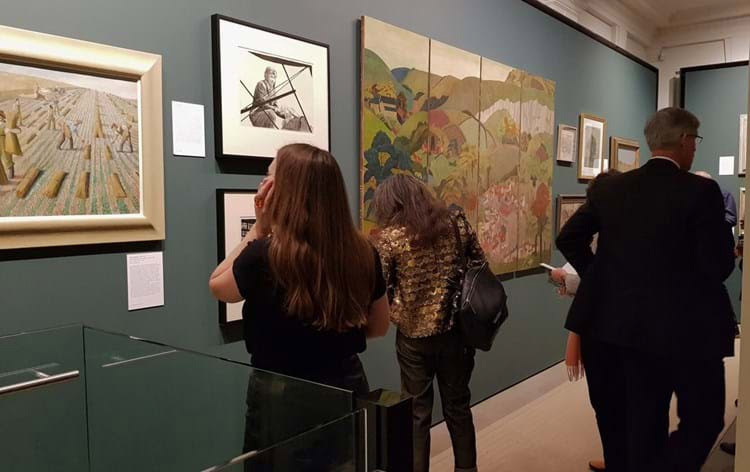 The opening of Liss Llewellyn's exhibition "50/50: Fifty Works by Fifty British Women Artists 1900-1950" (it continues until Marcy 23 at London Mercers' Company). The dealership will continue to host such shows and has moved some of its stock, priced at under £2000, to a new website it has launched, Modern British Art Gallery.
MODERN BRITISH ART DEALER LAUNCHES NEW WEBSITE FOR PAINTINGS UNDER £2000 TO ENCOURAGE NEW BUYERS
By Frances Allitt
Modern British art specialist Liss Llewellyn has divided its business across two buying platforms to help customers search for and find pictures from its 4000 items of stock more easily.
Previously all the stock was offered via the original Liss Llewellyn platform. After 30 years, however, "there is just so much to look at", Paul Liss told ATG. "Dividing our stock across two different sites with price being the deciding factor seemed a logical way of tackling the issue."
The new site, Modern British Art Gallery (modernbritishartgallery.com), focuses on artworks priced at £2000 or less and targets first-time buyers and younger collectors and will make more use of social media for promotion. Liss Llewellyn (lissllewellyn.com), the original site, remains the platform through which the business develops its programme of publications and exhibitions.
Liss adds: "We have always believed that there is surprisingly little correlation in the art market between aesthetic and commercial value. Just because the Modern British Art Gallery site hosts work that is more affordable, that is not to say that the quality of what is on offer is less – hence the tag-line that we are offering museum-quality work for under £2000. We recently sold a picture to a museum for £90."
Liss Llewellyn offers a total of 917 pictures by 386 artists and a further 1107 pictures by 391 artists are available from Modern British Art Gallery.
Though Liss plans to move the platforms in different directions over time, they remain connected. A further 2000 pictures are listed across the two sites as either having been sold or as pictures that will be available for sale after planned exhibitions.