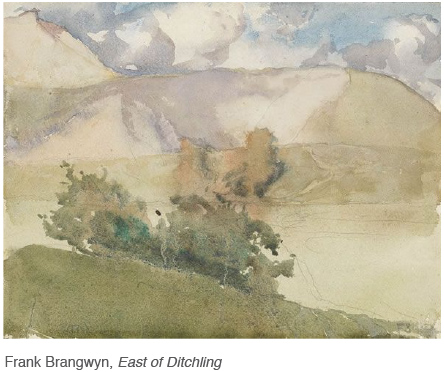 Last week when I previewed the imminent World of Drawings and Watercolour Fair, which will run at the Dorchester Hotel in London's Park Lane from January 28 to February 1, I mentioned that Oxfordshire dealer Paul Liss makes his debut at the event with the fresh-to-the-market collection of work by Sir Frank Brangwyn (1867-1956).
I now have some more details and can reveal that the 25 works are drawn form a collection of several hundred which has been formed privately over the past twenty years. The majority of the collection originates from two sources, Count William de Belleroche and William Stewart.
The count was responsible for establishing the Bruges and Orange Museums in 1935 and 1947 respectively, both of which centred on Brangwyn's work. He was also the author of two books on Brangwyn and a number of illustrations produced for these books are among the drawings on sale at the Dorchester for prices from around £100 to £6000.
Much of de Belleroche's extensive collection was sold at Sotheby's in April 1961 and at Christie's in July of the same year. However, the count hung on to the works to be sold at the fair.
William Stewart was a scene painter form London who helped Brangwyn in his studio during the final years of the artist's life.
Many of the works collected by Stewart are of much art historical value. Sadly many others, recalls Brangwyn's last assistant Kenneth Center, were stuck in bags and destroyed on Brangwyn's instructions.