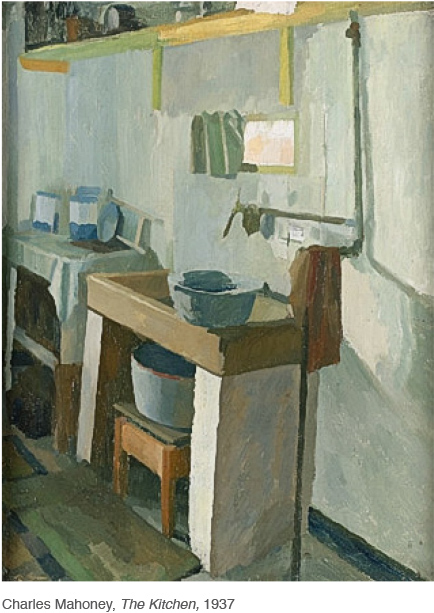 By Peyton Skipwith
To find a sizable part of the life's work of a forgotten artist of distinction is the aspiration of every dealer: to be present when the Pandora's Box is opened is the dream of every collector. Such an opportunity is provided by the Charles Mahoney exhibition, with its mix of exquisite pen drawings from the Thirties for Gardener's Choice, scenes of everyday life in the Mahoney household in Wrotham, in Kent, large-scale paintings for the Festival of Britain and studies for a mural cycle depicting the life of the Virgin Mary. It is perhaps, though, his studies of plants that will resonate most strongly for many: bold pencil and watercolour drawings of poppies, verbascum and tomatoes, alongside mouthwatering oil studies of auriculae, carried out with a breathtaking authority, show him to be not just worthy heir to the great Northern European tradition of draughtsmanship, but a Master in his own right.
Charles Mahoney's reputation has been crying out for reappraisal. The reason this has not happened before is that until now little of his work has appeared on the market, which is where reputations are made. Mahoney devoted his life to teaching and mural painting – both taxing and time-consuming occupations. He painted murals at Morley College in the Twenties with Bawden and Ravilious, in the thirties at Brockley County School with Evelyn Dunbar, and in the Forties and Fifties at Campion Hall, Oxford. There are studies for each of these in the exhibition: the 14 small oils for Campion Hall make a particularly fascinating series, ranging rom The Birth of the Virgin to Luytens, the Hall's architect, talking to a gardener whilst Father D'Arcy converses with the undergraduates.
Although mural painting is a public art, its practitioners are often overlooked: their principal works, displayed on walls and ceilings for all to see, are often, through familiarity, taken for granted, whilst the artist themselves are left with little independent work to exhibit. Mahoney did not sell much; he never had a solo exhibition and seldom exhibited outside the Royal Academy or the New English Art Club.Until now, more than thirty years after his death, his family have preserved the work he left, anticipating that one day an exhibition such as this, with its excellent and well-illustrated catalogue, would finally establish the reputation his talent deserved.
Charles Mahoney runs from 29 March to 14 April, Monday to Friday 9:30 – 5:30, Saturday 10 – 1. Fine Art Society with Paul Liss