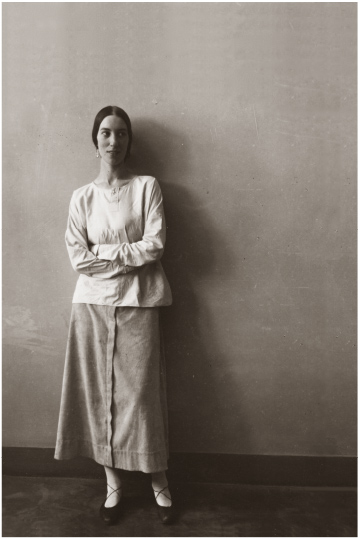 Winifred Knights was an artists' model as well as a painter in her own right.
Photo courtesy of the Estate of Winifred Knights.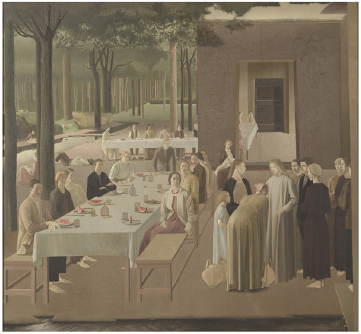 'The Marriage at Cana,' which Knights completed in 1923, is now in the
collection of Museum of New Zealand Te Papa Tongarewa, Wellington.


By Frances Allitt
Sacha Llewellyn is a co-founder of Liss Llewellyn Fine Art, which specialises in reappraising under-represented artists of the past.
But five years ago she took the task of reintroducing an artist back into the public eye to new lengths when she began her pursuit of the life and works of Winifred Knights (1899-1947).
"I've always felt since I knew about Knights' works that she deserves greater recognition, even though she was so well known during her life," Llewellyn told ATG.
With her fully illustrated biography of Knights' life, published by Lund Humphries, released in late May, and the Knights retrospective – the first ever – now open at Dulwich Picture Gallery, Llewellyn looks back on the past five years with pleasure.
"I don't think I'll ever be privileged to work on something as wonderful as this again," says Llewellyn. Encompassing Knights' paintings, studies, drawings and photographs, the exhibition, which runs to September 18, gives visitors a look at an artist with a lot to show and a distinct way of showing it.
Knights grew up in London and became an award-winning student at the Slade School. In 1920 she became the first woman to win the Scholarship in Decorative Painting from the British School at Rome.
She studied the compositional processes of Renaissance painters. Still, the dreamy quality and geometry of her works make them distinctly modern. So too does their subject matter which explores women's autonomy through the reinterpretation of biblical and mythological tales.
"She is the protagonist in every picture she painted, so each one shows what she was living through at that minute," Llewellyn explains.
Despite the slightly eerie quality that some of the works have, Llewellyn feels that walking through the halls of the gallery where the works are hung is calming.
Yet she estimates that 95% of the 120 works on show have never been seen in public before.
And until now, the only one of Knights' major works that could easily be viewed in the UK was The Deluge at the Tate.
Llewellyn's search for Knights' five major paintings led her to international galleries such as the Museum of New Zealand which has held The Marriage at Cana since the Tate turned it down in 1957. It has not been in the UK since.
When people do see them, they are "completely bowled over". And, Llewellyn adds, "what I'm very much hoping is that some works that aren't known will come to light".
During the time she worked on putting the book on Knights' life and the exhibition together, she took a hiatus from her role at Liss Llewellyn, and when she returns, it's unlikely that any of the works currently on loan in Dulwich will come up for sale on the gallery's website.
Knights' work is seldom on the market. "Those who have the few existing tend to hold on to them," Llewellyn says.