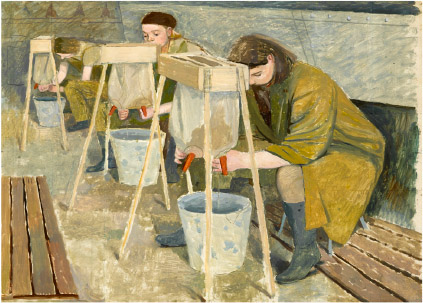 Milking Practice with Artificial Udders,
Oil on paper, 22 x 30 in. (56 x 76cm)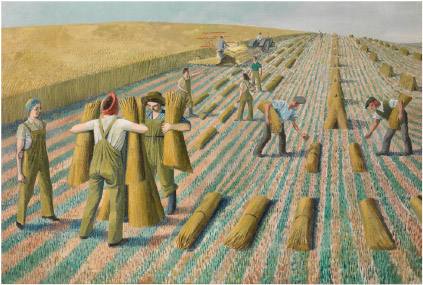 Men Stooking and Girls Learning to Stook,
Oil on canvas, 30 x 19 in. (76 x 49 cm)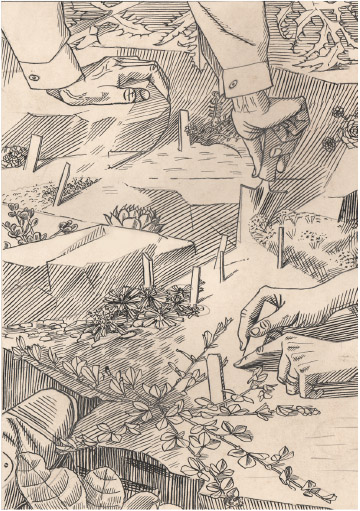 Sketch for the frontispiece of the
Gardener's Diary for 1938,
pen and ink over pencil on paper

She was the only salaried female official war artist during the Second World War, and a contemporary of household names such as Edward Bawden and Eric Ravilious. Yet Evelyn Dunbar (1906-60) is barely known today outside a circle of devotees.
It's a common tale: female artists from the earlier 20th century being underappreciated and lesser-known than their male contemporaries.
However, in Dunbar's case her relative obscurity is perhaps due to the fact that so much of her work has been hidden from view since her death.
But thanks to a series of serendipitous events, a 'lost studio' of her work has been uncovered that will form the backbone of an exhibition at Pallant House Gallery in Chichester, organised in association with the art dealers Sacha Llewellyn and Paul Liss of Liss Llewellyn Fine Art.
Evelyn Dunbar: The Lost Works runs from October 3 to February 14 and includes a hoard of over 500 unrecorded paintings, studies and drawings found in the attic of a house on the Kent coast owned by Ro Dunbar, a relative of the artist. Overnight, the discovery doubled the known body of Dunbar's work.
Its unveiling was sparked in January 2013 when Dunbar's Neo-Romantic painting Autumn and the Poet (1960) appeared on the BBC's Antiques Roadshow and was appraised by the dealer Rupert Maas.
Ro Dunbar was watching. It encouraged her to reflect on the works in her possession and in turn led to her meeting Dunbar enthusiast Christopher Campbell-Howes, the artist's nephew, who had been trying to trace the contents of the artist's studio after it was dismantled following her death in 1960.
Campbell-Howes put Ro Dunbar in touch with Liss who, realising the potential of the collection as an exhibition, contacted Simon Martin, artistic director of Pallant House, who was enthusiastic from the off about having the show in Chichester.
As Martin writes in the foreword to the catalogue, the discovery of 'unknown' works is rare: "When it happens it can animate and punctuate a show, bringing freshness and providing new insights into an artist's working methods and deepening our understanding of their life and work.
"What then, when the entire show is composed of 'lost works', not seen in public for decades, if ever?"
Dunbar's work rarely appeared on the market, until a small collection belonging to a fellow Royal College of Art student and friend, Margaret Goodwin, came up at Diss Auction Rooms a few years ago.
This led to the re-emergence of two major 'lost' works depicting the Women's Land Army during the war, both in the Pallant House show: Milking Practice with Artificial Udders and Men Stooking and Girls Learning to Stook.
The Pallant House exhibition of more than 80 works shows the breadth of Dunbar's artistic endeavour, from the war works for which she is best known, through preliminary studies for public commissions, such as the 1933-6 mural scheme at Brockley School, to commercial advertisements and shop signs, and illustrations for various books about gardening and agriculture. Alongside these are some of her larger paintings and a large group of family portraits.
To coincide with the exhibition, Persephone Books will publish a facsimile of Dunbar and Charles Mahoney's Gardeners' Choice (1937), with an unpublished preface by Edward Bawden and afterword by Campbell-Howes.