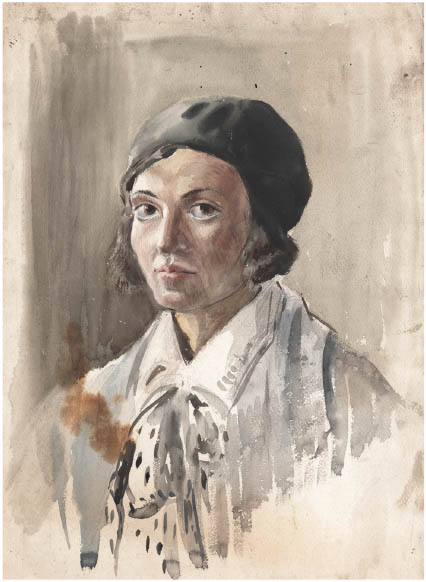 Evelyn Dunbar, Self portrait, 1930
The discovery of a hoard of lost works by Evelyn Dunbar has inspired an exhibition at Pallant House Gallery. We speak to Curator Katy Norris about Dunbar's legacy as one of the most significant British figurative artists of the 20th century
In September 2012, the BBC Antiques Roadshow was held at Cawdor Castle and among the dolls, furniture and bric-a-brac that were brought by the queues waiting in the inevitable rain was a painting by Evelyn Dunbar (1906- 1960). As the only salaried female official war artist during WW2, Dunbar is celebrated for her wartime paintings, but she was also notable for her share in a public commission, the 1933-36 mural scheme at Brockley School, and for illustrations for several books about gardening and agriculture.
"It was the kind of moment that the television producers must cherish," comments Katy Norris, Curator of the Evelyn Dunbar: The Lost Works at PallantHouse Gallery. For what was special about the Neo-Romantic painting entitled Autumn and the Poet (1960) was that it was part of a collection that had been missing for over 20 years.
After the programme, Autumn and the Poet was purchased and donated, through the agency of Liss Llewellyn Fine Art, to Maidstone Museum (the donor wishing to anonymously record his gratitude to Dunbar for the kindness she had shown him as a foster mother).
But the story didn't end there.
Watching the Antiques Roadshow broadcast, another relative, Ro Dunbar, felt inspired to look again at works which for years had been stored in her attic – and was amazed to find an extraordinary hoard of over 500 Dunbar paintings, drawings and studies. Evelyn Dunbar threw very little away and on her unexpected death in 1960, when she was 53, it transpired that her husband Roger had given the contents of her studio to her brother Alec for safe keeping. The unrecorded works were identified with the help of the artist's nephew Christopher Campbell-Howes, who had been trying to track the contents of the 'lost studio' for over 20 years. The discovery doubled the known body of Dunbar's work overnight.
Dunbar is so important because "her work demonstrates extraordinary talent," explains Katy. "She was incredibly diverse and could at one time or another be described as a muralist, painter, illustrator and an official war artist."
The wide-ranging exhibition at Pallant House Gallery, in association with Liss Llewellyn Fine Art, is a rare chance to encounter such a large quantity of previously unseen work by an important 20th-century artist. It is also in line with the gallery's continuing commitment to the reappraisal of overlooked modern British artists.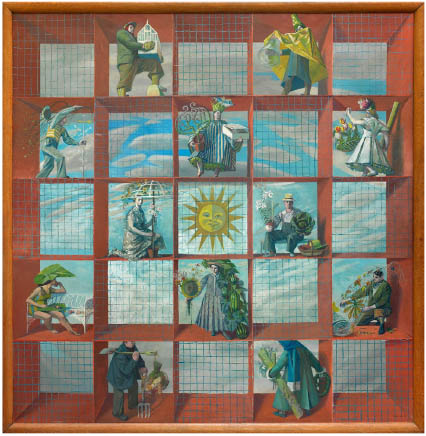 An English Calendar, 1938
Dunbar trained at the Royal College of Art (RCA), where she was taught a blend of observational drawing and traditional painting techniques. Her pictures at this time reflect a growing interest among contemporary painters and illustrators in the art of the Renaissance, in particular the figurative paintings of Leon Battista Alberti.
Portraits of Dunbar and her family in the garden of their home, The Cedars, in Strood, Kent, show her use of classical compositions knitting together a casual family group. These works also reveal how easily she managed the transition between drawing and painting, with a mixture of detail and broad handling that later informed her work in illustration.
Among the individual portraits that Dunbar produced at this time was her own self-portrait (1930), in which she adopted the cool, critical gaze of the painter. Between 1933 and 1936,
Dunbar was among a team of recent graduates from the RCA who were invited by their tutor Cyril (Charles) Mahoney to create a mural design for the hall of Brockley County School for Boys in Lewisham. United by their dislike for London and yearning for the country, the chosen theme, Aesop's Fables, gave the group scope for narrative subjects in landscape settings.
Working closely together at Brockley, Dunbar and Mahoney fell in love, brought together particularly by their mutual love of plants and gardening, which was reinforced by their friendship with artist colleagues such as Edward Bawden. In 1936, Dunbar invited Mahoney to share a commission from Routledge & Sons to write and illustrate Gardeners' Choice, a guide to 40 unusual or unconventional flowering plants. As an exciting consequence of the show at Pallant House Gallery, it has been republished in facsimile by Persephone Books.
Dunbar's work for Gardeners' Choice led to a further commission from the editor Noel Carrington to compile the Country Life 1938 Gardener's Diary.
A highlight of the exhibition is the painting An English Calendar, held in the collection of Imperial College, London. Katy says, "It is really valuable to see how the final painting grew out of her initial ideas, as they reveal the genesis of perhaps her most accomplished work.
I think it also perfectly illustrates the bounds of Dunbar's imagination and her ability to push a creative idea to its limit. There is a wonderful sense of joy in the series; it seems that above all, Dunbar really relished making it."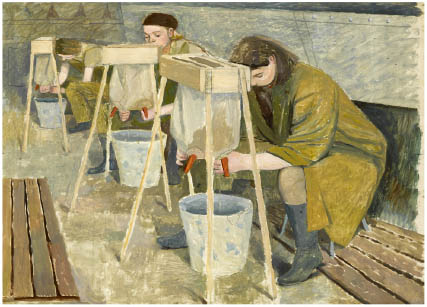 Sketch for Milking Practice with Articial Udders, 1940
Katy says Dunbar "captured all of her subjects with wonderful sensitivity whether they were her friends, family, or the plants in her garden. In that way she was also very democratic in her approach. There is a message in Dunbar's work that human beings are part of the natural world and nature's cycle, which I think in some way is very relevant to the environmental questions that we are facing now."
For Dunbar, WW2 offered new opportunities to explore the relationship between people and the natural world. "Dunbar was appointed an official war artist in April 1940 and was the only woman known to have been employed on a category A basis, which meant that she received a salary for a prolonged period of time. There were a few other women involved with the War Artists Advisory Committee (WAAC) in Britain, but none were employed in this way that we know of."
For example, Dame Laura Knight was employed at category B, which meant that she was employed for designated commissions or projects. There is some difference in this, as the WAAC showed extraordinary confidence in Dunbar's ability by committing to a fixed salary and allowing her to find her own subjects within the remit of women's activities on the Home Front."
For three weeks in June 1940 Dunbar went to the Sparsholt Farm Institute near Winchester to make drawings and paintings of the training undertaken by recruits to the recently reformed Women's Land Army. Her work led to important paintings, such as Milking Practice with Artificial Udders, now held in the collection of the Imperial War Museum, for which there is wonderful sketch in the exhibition. She returned to Sparsholt in October 1940 to collect more information, during which time she also met her husband Roger Folley."
Katy continues: "The paintings that Dunbar created as an official war artist perfectly illustrate the statement given by the art critic Eric Newton that 'the most successful of our war artists are not so much eye-witnesses of spectacular happenings as poets trying to catch the mood below the surface'. Works such as Men Stooking and Girls Learning to Stook and Milking Practice with Artificial Udders reveal ordinary women adapting to manual work that was often unfamiliar to them, and in this they provide an important social record of the time.
"Dunbar documented women's changing role in society, but with such flair and imagination that they can equally be appreciated for their masterful use of colour and form," says Katy. "For me, her stylised depictions of women working on the land are comparable to Stanley Spencer's paintings of male soldiers in army camps during WW1, created for the Sandham Memorial Chapel during the late 1920s and early 1930s, an exhibition that we staged at Pallant House Gallery in 2013.
"It is no surprise that Dunbar's later work has often invited comparison with that of Spencer and I hope that by drawing attention to Dunbar's achievements in this exhibition she will be viewed more equally with her male peers in the future."