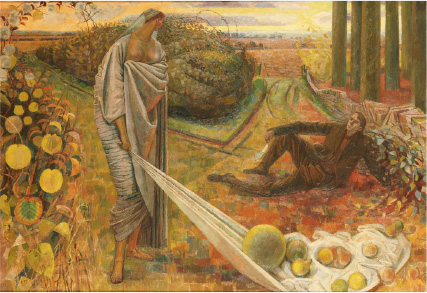 Autumn and the Poet, 1948-60, by Evelyn Dunbar.
Photograph: The artist's estate / Courtesy of Liss Llewellyn Fine Art

Autumn and the Poet was one of the last works ever painted by Evelyn, before her death in 1960 at the age of 53. It was a gift to her husband, the second world war airman and leading horticultural economist Roger Folley, and its whereabouts had been unknown for half a century. Evelyn, however, was not quite unknown. She was celebrated as the only salaried woman war artist, commissioned to record the work of land girls on the home front. Her war paintings hang in Tate Britain and the Imperial War Museum.