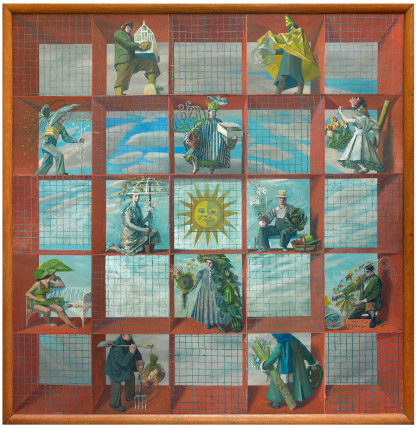 Evelyn Dunbar, An English Calendar, 1938,
oil on canvas, 72 x 72 in. (183 x 183 cm)
PALLANT HOUSE GALLERY
3 October 2015 – 14 February 2016
In January 2013, Dunbar's painting 'Autumn and the Poet' (1960) appeared on the BBC Antiques Roadshow, leading Ro Dunbar, a relative of the artist, to explore the extraordinary hoard of over 500 paintings, drawings and studies hidden in the attic of her Kent home. The unrecorded works were identified with the help of the artist's nephew Christopher Campbell-Howes, who had been tracking contents of the 'lost studio' – dismantled in its entirety after Dunbar's death in 1960 – for over 20 years. The discovery doubled the known body of Dunbar's work overnight.
This exhibition, in association with Liss Llewellyn Fine Art, is a rare chance to encounter such a large quantity of previously unseen work by an important 20th century artist. It is also in line with the Gallery's continuing commitment to the reappraisal of overlooked Modern British artists.
The exhibition is accompanied by the publication of an illustrated book published by Liss Llewellyn Fine Art, with contributions by Gill Clarke, Andrew Lambirth, Alan Powers, Peyton Skipwith and Christopher Campbell-Howes.