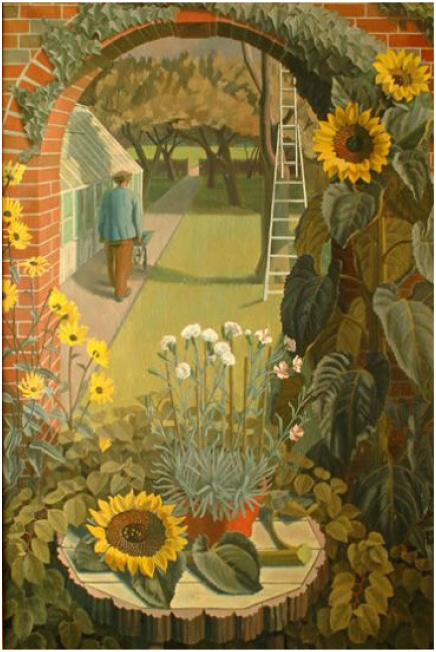 Charles Mahoney, The Garden, 1950

By Matthew Dennison
Charles Mahoney was a 20th-century painter and muralist, who distilled into a relatively small body of completed work a vision that is both beguiling and arresting. In his landscapes he rendered with apparent straight-forwardness the harmonious colours of fertile, flower-filled England. In many of his paintings, notably his mural schemes, the human subjects, at rest and at play, are imbued with an other-worldly symbolism at one with their seeming ordinariness. Mahoney's was a considered vision. A collection of his paintings and drawings – mostly from the artist's estate – is currently the subject of an exhibition at the Fine Art Society in New Bond Street. Although the work delights on account of its prettiness, it is its meditative quality that most lingers in the memory.Charles Mahoney(or Cyril, as he was christened) was born in Lambeth in 1903, the eldest of a family of boys living in modest circumstances. At the age of 18, he won an exhibition to the painting school of the Royal College of Art. He showed an early admiration for the Italian Renaissance masters Fra Angelico, Piero della Francesca and Crivelli. The limpid, fresh colours, clear delineation and simplified forms that characterise much of Mahoney's work, and its frank treatment of religious and allegorical subjects, are traceable to this first enthusiasm the confident floral decoration of several of his paintings echoes Crivelli.Mahoney's career can be charted by the three mural schemes he undertook: for Morley College (1930), Brockley County School (1932-36) and the Lady Chapel at Campion Hall, Oxford (1941-52). These constitute the most complete expression of his skills. In addition, in 1942, he was elected as a mural painter to the Art Workers Guild; in 1950, he was elected to the New English Art Club; and in 1951, he contributed to the Festival of Britain '60 Paintings for 51′ exhibition.The love of gardens is a distinguishing feature of Mahoney's work. It is among the chief characteristics that brand it is English. The landscape he depicts, if not actually gardens, are uniformly domesticated, 'tames' by the impulse to shape and cultivate: orchards, playing fields, allotments, a park. Furthermore, Mahoney enjoyed formal gardens: at his house, Oak Cottage, at Wrotham in Kent, he planted a formal garden in which traditional cottage-garden plants grew exuberantly within clipped box and lavender. His enjoyment is also shown in a preliminary sketch for the Brockley School Joy and Sorrow mural, in which a formal parterre is depicted, lying in front of an 18th-century mansion. Mahoney was also an assured botanical artist, as his plant studies and pen-and-ink illustrations for his books Gardener's Choice (1937), testify.
The artist frequently included in his paintings the flowers and plants he grew: sunflowers and cabbages are favourites; so, too, are daisy-flowered inulas, splodgy roses and a tall plant compounded of hollyhocks, mulleins and foxgloves. All of these Mahoney depicted with vigour. Sometimes they constitute pictures in their own right; at other times they provide a setting and framework for the figure in a narrative work. In these cases they are not merely embellishments, but central elements in the compositions, giving them structure and balance.
Gardens invariably provided the mise-en-scène for Mahoney's narrative paintings. In the late Fifties, he began work on a mural scheme that remained uncompleted at his death in 1968. The Muses was intended to replace his earlier murals at Morley College then being rebuilt after bomb damage in the Second World War. In Mahoney's preparatory sketches, the Muses are depicted in the guise of ordinary young men and women of the time, some of them engaged in essential outdoor pursuits: these they carry out in a garden, in which sunflowers, cabbages and a basket of apples feature prominently. In the allegorical, Autumn (1951), the female personification of the season sits on a bed os cabbage leaves cradling a basket of apples, pears and grapes. Behind her a man is hoeing and, high on a ladder, a young woman in gumboots gathers fruit. In the same vein, the coronation of the Virgin in the Campion Hall murals takes place within the walls of an English garden.
Mahoney clearly painted gardens because he loved them. Garden landscapes such as Evening, Oak Cottage (1938-39) and The Garden (1950), aside from plant interest, delight in the effects of light and shade within a garden's confined compass. More than this, however, is a garden's ordinariness, its familiar and quotidian nature. It is this that roots the spiritual content of Mahoney's symbolic and overtly religious subjects, rendering everyday and thereby plausible the events they portray. The familiar settings of Mahoney's Campion Hall murals, depicting scenes form the Life of the Virgin, for example, are in themselves a profound comment on the all-pervasive, eternally renewable nature of faith and religious experience.
The Exhibition 'Charles Mahoney' is organised by the Fine Art Society in association with Paul Liss, and is being held at the Fine Art Society, 148 New Bond Street, London W1, until April 14.