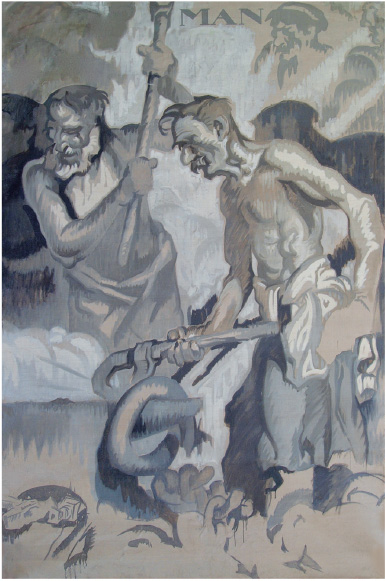 Frank Brangwyn, study for Man the Master, 1930-1934.

Oil on canvas, 108 x 72 in. (274.3 x 182.9 cm).

Provenance E Kenneth Center; William de Belleroche

© David Brangwyn, courtesy of Liss Llewellyn Fine Art

Liss Llewellyn Fine Art has been dealing in works by Frank Brangwyn for the last 30 years. Company director and founder Paul Liss gives his view of the current market
IN THE EARLY 1930s one of the richest men in the world, Nelson Rockefeller, set out to persuade the most famous artists of the era to paint murals for the Radio Corporation of America (RCA) building situated at the heart of the new Rockefeller Center.This prestigious commission was first offered to Picasso and Matisse, but when they both turned it down the Spanish artist José Maria Sert and the Mexican Diego Rivera were appointed to carry out the scheme alongside the internationally renowned British artist Frank Brangwyn. Two of Brangwyn's full size studies in oil for this work now hang in my kitchen in the South of France (right).They might have a value today of a few thousand pounds, but not more. How is it possible that, some 60in keeping with Joseph's usual practice of building strongly delineated but flat colour areas without chiaroscuro (very slight shadows are glimpsed in the drapery and behind the handbag chain): the image has the look of a dull day, despite sunshine and blue sky. The subdued hues are tonally harmonious, relieved only by touches of brighter colour. Although years after his death, Brangwyn's star has fallen so far that works of such obvious historic worth are of relatively little commercial value?
INTERNATIONAL REPUTATION
Brangwyn had an international reputation during his lifetime, admired by such luminaries as Kandinsky, Klimt, Toulouse-Lautrec, Tiffany and Bonnard. His work was purchased by the newspaper magnate R. D. Elliott (now housed in the Mildura Arts Centre, Australia); the wealthy Japanese industrialist Kojiro Matsukata (many of which are now in the National Museum of Western Art, Tokyo); and Sergei Shchukin, the visionary Russian collector. Anyone who has time to visit the blockbuster exhibition of Shchukin's collection Icons of Modern Art, currently on at the Louis Vuitton Foundation, Paris (until February 20) will see Brangwyn's The Market (1893) alongside the dozens of celebrated Cezanne's, Gauguin's and Picasso's. There are many museums worldwide dedicated either fully or partially to Brangwyn – in the UK alone the British Museum has 684 Brangwyn's while the William Morris Gallery in Walthamstow (which owes its existence to Brangwyn) includes 388 of his works.
RECENT MARKET
A cursory glance at the Brangwyn auction market shows that about 2,000 Brangwyn's have passed through the major auction houses in the last 30 years. The highest price, £160,000 (hammer) was for a modest sized oil painting entitled Fowey Harbour (Christie's 2002). The next highest price, £65,000, (Christie's 2010) was for the larger and grander The Cider Press followed by £55,000 for Above the Fishing Village (Christie's 2012). On all three of these prices the hammer fell at the reserve figure. From this it might be surmised that auction houses feel instinctively that Brangwyn ought to be worth more – but have difficulty persuading the market to follow suit. Another striking fact about prices at auction is that most records were achieved some time ago – overall prices have not risen substantially for Brangwyn over the last 30 years. The highest price for a work on paper, Cafe in Montreuil, £9,000, was achieved in 1999 (Christie's) and, of the 15 other works on paper at auction that have made over £5000, nothing has been more recent than 2007.
PRINTMAKER
The highest price for a Brangwyn etching is a very modest £2,200, for Cannon Street Station, (Sotheby's 2001). Iconic might be too colourful a word to apply to anything by Brangwyn, but highly desirable prints include Breaking Up of The Hannibal (1904) which was priced at 10 guineas when exhibited at the Rembrandt Gallery, London in 1905. Santa Maria della Salute (1905), arguably Brangwyn's most famous print of all, which won the Grand Prix at the 1906 Milan International Exhibition and a gold medal at the 1907 Venice International Exhibition. In 1907 copies sold for £15 guineas. Liss Llewellyn Fine Art (LLFA) currently has a copy of this for under a thousand pounds (lbelow) the vast majority of Brangwyn's prints sell for under £500. And yet in his day he was one of the most sought after printmakers of his generation. Why is Brangwyn so undervalued today and what might change that?
ANNIVERSARY EXHIBITIONS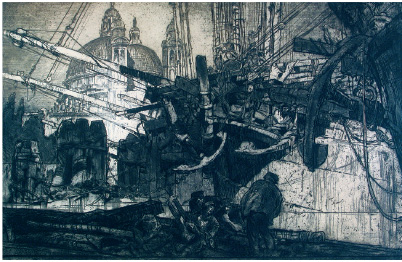 Frank Brangwyn, Santa Maria della Salute. Unmounted. Etching. According to Walter Sparrow, this etching won the gold medal at the 1907 Venice International Exhibition and the Grand Prize at the 1906 Milan International Exhibition © David Brangwyn, courtesy of Liss Llewellyn Fine Art
2006 marked the 50th anniversary of Brangwyn's death and resulted in a spate of exhibitions. To mark the occasion LLFA organised the largest ever commercial exhibition of his works at The Fine Art Society and published, in collaboration with Brangwyn expert Dr Libby Horner, A Mission to Decorate Life – The Brangwyn Handbook. Prior to 2006 numerous books and articles had been written about Brangwyn but none of them involved original scholarly research and unfounded myths were perpetuated. Even the Oxford Dictionary of National Biography entry on Brangwyn included 25 factual errors, including the wrong date of birth. Libby Horner is currently compiling the catalogue raisonné of all Brangwyn's work, estimated to be in excess of 12,000 pieces. She has to date published Frank Brangwyn: Stained Glass (2011), the first catalogue in the world to be produced as a DVD, and Brangwyn at War! (2014).
SPOTTING FAKES
The greatest problem with the market for Brangwyn revolves around questions of authenticity. Libby Horner and I estimate that more than 25 percent of what appears at auction described as Brangwyn is not by him. Almost any bad painting of North Africa or Belgium will inevitably be attributed to Brangwyn. Fortunately the larger auction houses now routinely seek Libby Horner's advice and every genuine Brangwyn has or will have a unique reference number in her forthcoming catalogue raisonné. But if ever the much cited caveat emptor has reason to be written in Hollywood-size letters, then Brangwyn would be a natural cause. Misattributions aside the market is not without other complications. Brangwyn's popularity meant he was hugely copied by art students and admirers. Even D H Lawrence wrote: "To copy a Frank Brangwyn is a joy, so refreshing." And these are, of course, not fakes – unless a signature is added later. In a nutshell, by definition, all fakes are signed, to which end attaching too much importance to a signature is fateful.
CHECKING AUTHENTICITY
If a picture is by Brangwyn it should be obvious because of the idiosyncrasies that are rarely missing from his works. These are typically visible in his abbreviated drawing of hands and faces, the rapid handling of medium, trademark compositional devices, and his typically saturated palette. There is almost always a fluency in the execution that copies and fakes fail to replicate convincingly – an economy of line that is inevitably missing in the mimicry of overly self-conscious copies. There are further complications which go beyond the issue of authenticity: Kenneth Centre, one of Brangwyn's many assistants, is known to have completed works that lay unfinished in Brangwyn's studio. Promoters like William de Belleroche at times let their enthusiasm for Brangwyn blur the edges of propriety. Part painter, part dealer, and fulltime socialite, de Belleroche built up a remarkable collection of works by Brangwyn which were sold at Christie's in 1961. De Belleroche definitely recovered quite a lot of works that Brangwyn would have in the normal course of events thrown away. And the market is the merrier, but more complicated, for it.
LITHOGRAPHS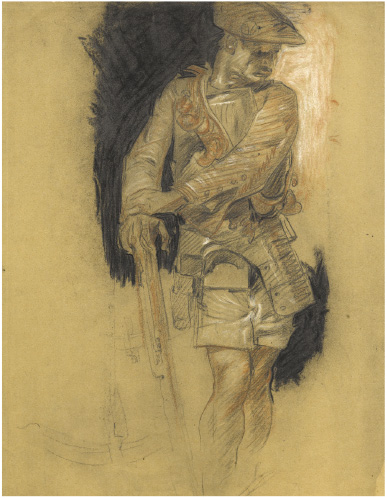 Frank Brangwyn, Man with Cross bow, c. 1927. Unmounted. Black, white and brown chalk over a lithographic base, 46.5 x 36 cm (18 x 14in). From the collection of Count William de Belleroche until 1961; private collection until 2001; © David Brangwyn, courtesy of Liss Llewellyn Fine Art
In 1927 the Brangwyn Portfolio was published by E. F. d'Alignan and Paul Turpin in a limited edition of 120, costing 100 guineas each. Responding to a demand for high quality reproductions of his work Brangwyn himself chose 100 items which he felt were representative of his range of disciplines, including 12 original etchings and three original lithographs. The remaining 85 works were lithographic reproductions of watercolours, pastels and drawings produced by photomechanical means to which Brangwyn and his assistants added chalk or watercolour through stencils, giving the impression of original works. In fact such is the quality of these reproductions that they are frequently mistaken for the real thing – even by the top auction houses. As such they often fetch at auction far more than they are worth. LLFA typically sells these for between £50 and £500 which, given their quality represents excellent value, provided the buyer knows what they are getting.
MILESTONE SALES
Milestones in the collecting of Brangwyn drawings include the Christie's sale of Belleroche's collection and Edgar Horn's sale of Edgar Peacock's collection in 2000. The recent discovery of works belonging to Brangwyn's admirer, Father Jerome Esser marks a further watershed for collectors. The latter was commemorated in the 2015 publication Drawings from the Collection of Father Jerome Esser. The drawings in Esser's collection, which were hidden for more than half a century, were made up of works that Brangwyn, with characteristic modesty, had left in his studio with a written instruction, "most of this lot destroy". Never intended for presentation, they explore and resolve alternative compositions and the relation of figures to each other and to the space they occupy. Brangwyn's vigorous approach to drawing and directness of observation place him among the greatest draughtsman of 20th-century British art.
WILL 2017 BE THE YEAR OF REVIVAL?
As well the LLFA initiative in 2006 and the Brangwyn exhibition at the William Morris Gallery, the 50th centenary of Brangwyn's death was marked by a major touring exhibition, curated by Libby Horner, Frank Brangwyn 1867-1956, and a book of the same name edited by Gillian Naylor and Libby Horner. This was followed in 2010 by a major exhibition at the National Museum of Western Art, Tokyo, co-curated by Libby Horner and attended by nearly 100,000 people. It won an award for the best researched exhibition by the Western Arts Foundation, Japan. When LLFA sold the rights to Brangwyn's Cider Press to a popular Japanese manufacturer of apple pie I thought that a major Brangwyn revival might finally be underway…but the eureka moment failed to materialise. More recent initiatives have included the William Morris Gallery's 2014 war-themed exhibition, Help is Better than Sympathy; a recent exhibition at Court Barn, Chipping Campden, Brangwyn 1856-1967, and Man of the People at Scarborough Art Gallery, which ended in January (again co-curated by Libby Horner and accompanied by a catalogue). It is too soon to say that this year will mark another milestone. What can be said with certainty is that Brangwyn deserves all (and more) of the critical attention he is getting and his work remains fantastic value for money. But for any reader hoping to get rich on Brangwyn a quick a note of caution – one of Brangwyn's masterpieces, The Printed Word Makes the World One commissioned by Odham's Press in 1935, among his largest, most colourful and characteristic works, has just been consigned to LLFA for sale (below). Twice on the market previously, in 1977 and 1987, it was on both occasions offered to Tate Britain. In the first instance an internal memo read: "Though it is certainly a very typical work, I am afraid that there is not much chance of our being interested in buying it." Tate 4/2/130/1. The painting was again offered in 1987 when the Tate internal memo read: "In theory we need this … but I find the picture rather ridiculous." Tate 4/2/130/1. I will be offering the painting to Tate again, some 30 years after it found its way to a private Canadian collection. What, I wonder, will the internal memo in 2017 have to tell posterity?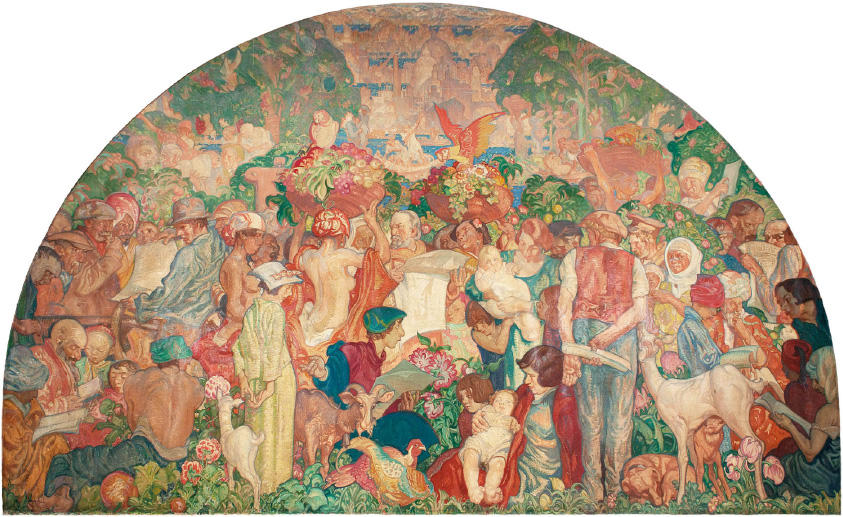 Frank Brangwyn, The Printed Word Makes the People of the World One, mural for the entrance hall of Odham Press, London, 1935-36. Framed.

Oil on tempera canvas washed-in with tempera, 396.2 x 548.6cm (156 x 216in); © David Brangwyn, courtesy of Liss Llewellyn Fine Art
I am grateful to Dr Libby Horner for supplying extensive information used in this piece, without which it would have been impossible to put together. Her website, which is the best source of information on Brangwyn and gives details of her forthcoming publications and projects, can be found at www.frankbrangwyn.org. Dr Horner and Hilary Chapman's book Yoshijiro Urushibara: a Japanese Printmaker in London will be published by Brill this spring. For more details of the Liss Llewellyn Fine Art visit www.LLFA.gallery. Subscribers wishing to receive a free catalogue of the collection of Father Jerome Esser should email paul@lissllewellyn.com.