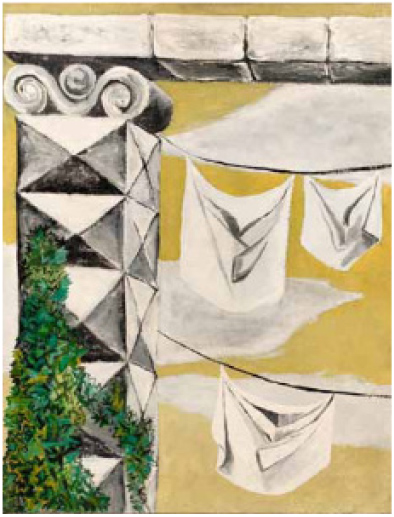 Ruins and Clothes Line by John Banting (1902-1972), c. 1937, 20 x 17 in. (51 x 41 cm) oil on canvas – was £8500 now £4250 in Liss Fine Art's online sale at www.lissllewellyn.com
When Paul Liss moved to France with his wife Sacha, 11 years ago he regarded having a website for Liss Fine Art as an unwelcome but necessary evil. Today he sees it differntly – one way or another the website accounts for 90 per cent of their business dealing in 20th century British art.
With Paul's background at Sotheby's, Hazlitt Gooden and Fox and Arnold Wiggins, an Sacha's having been at Sotheby's before studying at the Courtauld, the two launched out on their own in 1991. A brave move…
"Having no clients, and being in the middle of a recession, we started selling to museums who we at least knew had a budget available," recalls Paul. "We subsequently built up our clientele on the fair circuit – Olympia, World of Watercolours, 20/21 British Art Fair."
They still have no gallery, but hold seven exhibitions in association with The Fine Art Society and work in conjunction with museums, such as The British School at Rome, The Cecil Higgins Art Gallery and in 2013 they plan an exhibition on Alan Sorrell at the Sir John Soane's Museum.
For now, however, they are celebrating the busines's 20th anniversary with an online -only, half-price sale.
It's our first ever sale, " says Paul. "A kind of stock clearance which will allow us to plan for our next 20 years."
The first sale of 400 works on paper starts at 9am on this Thursday November 24 for one week only, and will be followed by a half-price sale of 100 paintings starting at 9am on Thursday January 19 at: www. lissllewellyn.com