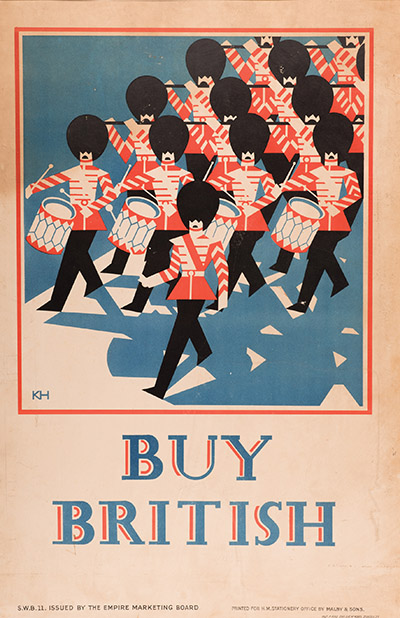 Karl Hagedorn (1889-1969), Poster: Buy British.
The Future was Bright
By George Richards
George Richards asks why the brilliant, ground-breaking work of Karl Hagedorn, much celebrated in his own lifetime, is not better remembered today and takes a look at a new exhibition of his work.
"A day will come when people will see as much beauty in a decorative arrangement of lines and circles as they see now in a laboured masterpiece of the Pre-Raphaelite school, which may have taken years to paint." (Karl Hagedorn, Manchester Playgoer, July 1914)
Having excited much furore in the press with his "Rhythmical Expressions in Line and Colour", it was with conviction and prescience that Karl Hagedorn (1889-1969) set out his aesthetic theories, and issued a rallying cry to other British artists of the period. These vibrant, faceted designs were shown at the second exhibition of Manchester's Society of Modern Painters on 23 October, 1913, and were quite unlike anything ever seen before in the North of England.
Liss Llewellyn has now reassembled many of these works from public and private collections and, together with additional material from the artist's estate, they are the subject of a collaborative exhibition at Pallant House Gallery, in Chichester, which will then move to the Worshipful Company of Mercers, City of London, on 1 April. It is a rare opportunity to witness the radical painting and illustration of a figure dubbed "Manchester's first Modernist"; a figure whose impact on the wider narratives of modern British art are only just beginning to be teased out.
Born in Berlin in 1889, Hagedorn emigrated to England in 1905 in order to study textile design at the Municipal School of Technology, Manchester. He secured work soon afterwards as a fabric designer in the Manchester cotton industry for Blakeley & Beving in what was to prove an inspiring move for the young artist. Under the aegis of fellow German expatriate Karl Beving, Hagedorn was exposed to a wealth of African textiles, from Ghanaian Asante Kente cloths to Yoruba Adire, as well as Indonesian batiks, which were popular on the Gold Coast. Beving was a manufacturer who had built up a substantial trade with West Africa, acquiring numerous textile samples during his visits, and when his collection was later donated to the British Museum in 1934, it was seen as the earliest documented and most important group of its kind. During Hagedorn's time with his firm, these designs were used as prototypes for their own mass productions, which were then exported back to West Africa, finding their place within a thriving market.
Evidence suggests that African design was of lasting interest to Hagedorn. Not only is he still listed as a designer for Blakeley & Beving in the 1917-18 DIA membership list, but he organised an exhibition of his own West African textiles at the Southport Art Gallery in January 19351. Furthermore, one need only look at his illustration to see evidence of its influence there. Look at the whimsical poster of "Tutankhamun Coming to Life", in which the figures seem to mimic Egyptian relief painting, while the batik technique of wax resist dyeing was commonly employed throughout Africa. Perhaps even more telling, given the wider interest in Britain for Egyptian culture sparked by the discovery of Tutankhamun's tomb by Howard Carter in 1922, is what appears to be a Baule Mbolo portrait mask, displayed prominently in Hagedorn's view of Africa from his Nations and Continents series.
The graphic strength of these designs means that they form an important part of the exhibition and accompanying publication. While they have been squared up for transfer, the exact purpose of this group remains something of a mystery, which invites further research. However, the assured treatment of the portrait mask reveals Hagedorn's knowledge of African sculpture, and a sizeable number of these were found in the artist's studio. They often feature in the background of his selfportraits.
Hagedorn's curiosity about non-Western art and design was augmented with a more traditional, albeit modern education. In 1910 he studied at the Manchester School of Art under the French Impressionist painter Pierre Adolphe Valette, before heading to Paris in 1912 alongside fellow student, Francis Sladen-Smith. The two artists were very close, and had established the beginnings of a Freundschaftsbund in the German style, entitled Der Künstler Zwei, for which they contributed drawings and watercolours for a handmade publication. A number of these scrapbook leaves are included within the exhibition at Pallant House Gallery.
While in Paris, Hagedorn worked in the atelier of Maurice Denis, exhibited at the Société du Salon d'automne, and met Henri Matisse in his studio at Issy-les-Moulineaux, where he would have observed the melodious, energetic works undertaken by the artist for his patron Sergei Shchukin. Hagedorn returned to England in the early part of 1913 and in the ensuing months he set about absorbing and reinterpreting these lessons, producing the works he would display at the second exhibition of Manchester's Society of Modern Painters. These "rhythmical expressions", as he called them, were to be some of the boldest and most singular examples of Post-Impressionism ever exhibited in Britain. The response was sensational.
Unaccustomed to the contrasting primary colours and angular forms of these works, the critics were taken aback by this new idiom of expression and voiced their disapproval at a fevered pitch. Works such as "Portrait of a Woman" and "Washstand" – now in the collection of the Whitworth Art Gallery – were described as "Cubist puzzles"2 or "violent ( …) prisms"3, while a commentator in the Manchester City News wrote that the artist "produces curves and cross-lines such as might haunt the Christmas dream of a schoolboy gloomily oppressed with thoughts of Euclid"4.
A curious thread running through much of the criticism was this kind of use of mathematical terminology, reflecting the rigorous, geometric approach that underpins much of Hagedorn's work in commercial design and illustration; areas in which he was increasingly active in the aftermath of the first world war. This is perhaps best seen in his "Buy British" poster, produced for the Empire Marketing Board in 1927, which employs repeated, tessellated forms to capture the movement of a marching band. A gouache study for the work in the V&A Museum, entitled "Drummer Boys", shows the evolution of this design and the flattened and overlapping planes that reveal Hagedorn's early textile training, as well as his growing awareness of the Futurist movement.
The dynamic mode of the Vorticists may also be glimpsed in Hagedorn's illustration. It is known that Frank Rutter had introduced Hagedorn to Percy Wyndham Lewis before the publication of the Blast manifesto, and as alumni of the Slade School of Fine Art, it is likely that both artists had shared networks and interests. Interestingly, it appears to be the motif of a vortex that Hagedorn uses in his cover for the summer issue of the Radio Times, August 1929, as abstract shapes are drawn into a central, swirling mass. This work was commissioned during the celebrated editorship of Eric Maschwitz (1927-1933), when artists including Edward McKnight Kauffer, Rex Whistler, Eric Fraser and Paul Nash were employed by the magazine. In an interview with the BBC, fellow contributor Victor Reinganum recalled the "considerable prestige attached to drawing for the Radio Times" in the 1920s, as it was one of the only British periodicals prepared to take a risk employing avant-garde artists, and "illustrators with something new to say"5.
In addition to his ongoing commercial work – for companies such as Osman Ltd, and products including margarine and washing powder (Fig 4) – Hagedorn undertook charitable commissions throughout the 1920s. He designed the posters for the University of Manchester Rag Week, which also doubled as covers for the Rag Publication, The Rag Rag. Over a period of eight years, Hagedorn "brilliantly reinterpreted the motifs of sun and serpent in dazzlingly witty"6 ways. This arguably reached its high point with the 1927 cover (Fig 6), which employs a cunning use of mise en abyme – or the Droste effect – as students are shown swarming after a copy of the magazine themselves, suggesting an infinitely recurring sequence. Such demand was genuine, it seems, as the Cheshire Observer noted that the magazine had sold over 250,000 copies, compared with 159,000 the previous year. The commentator continues to say that the escalating success of the publication was due in no small part to the "striking colour design"7 by Hagedorn.
Cotton design was also of continuing relevance to Hagedorn throughout his career. When not involved in textile production itself, he produced shippers' tickets for agents including Overmann & Co., which were attached to bolts of cloth or yarn, thus making goods instantly recognisable during transport. Some examples that he produced are included in the exhibition (Fig 8), and won Hagedorn the Grand Prix at the Exposition Internationale des Arts Décoratifs et Industriels of 1925 in Paris.
As late as 1941, Hagedorn was involved in an exhibition at Manchester Art Gallery, sponsored by the National Register of Industrial Art Designers, for which artists were asked to submit designs on cotton. Given his expertise, it is no surprise that Hagedorn earned special praise in this "remarkable and picturesque venture", even though he exhibited alongside artists including Vanessa Bell, Ivon Hitchens, Eric Ravilious and Graham Sutherland8.
Although he was one of the best-known graphic artists of his era, it is strange that Hagedorn's star should not shine as brightly today. In our efforts to champion the unsung heroes and heroines of British art, we seldom find a career that so clearly merits reanimation, and yet promises so much more in terms of discovery.
References
1. Lancashire Evening Post, 7 January, 1935.
2. Daily Mail, 24 October, 1913.
3. Liverpool Courier, 23 October, 19I3.
4. 25 October, 1913.
5. Driver, David (ed), The Art of the Radio Times: The First Sixty Years, British Broadcasting Corporation, Victoria and Albert Museum, 1981.
6. Manchester's First Modernist: Karl Hagedorn 1889-1969, Whitworth Art Gallery.
7. Cheshire Observer, Saturday 21 May, 1927.
8. Liverpool Daily Post, 30 April, 1941.
George Richards is international relations and development manager at Liss Llewellyn Fine Art. Liss Llewellyn's exhibition of Hagedorn's work will be at the Worshipful Company of Mercers, City of London, from 1 April until 26 May. Visit www.lissllewellyn.com for details.
This article appeared in the Winter 2018-19 edition of Illustration.