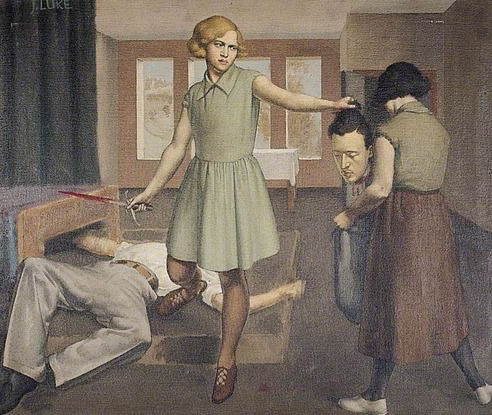 John Luke, Judith and Holofernes, 1928, oil on board, 19 ½ x 24 in. (50 x 60.5 cm). Armagh County Museum, Northern Ireland.
John Luke (1906-1975)
By Dickon Hall
It is well known that John Luke produced a very small number of paintings throughout his life, but his drawings are also comparatively rare. This group is drawn from a unique archive of working drawings which had remained for decades within the artist's family. It covers almost his entire career as an artist, from preparatory works for his earliest mature paintings to some of the tempera paintings and commissions that dominated the later part of his life.
Luke's evident natural talent led to the award of a scholarship to study in London at the Slade School in 1927 and the life drawings exhibited here probably date from these years. The skills of draughtsmanship that Luke developed under Henry Tonks were to provide the basis of the exceptional technical achievements that typified his paintings at every stage.
The exhibition includes a number of studies towards Judith and Holofernes, 1929, arguably one of Luke's most powerful and revealing paintings, for which he was awarded second prize in the Slade School's annual Summer Prize Competition. Luke used his sister, Sadie, and one of his brothers as models for the painting.
Luke's return to Ulster in 1931, after a short time living in Paris, marked a move back to landscape painting, with the influence of Cézanne still evident in Ballysillan Road (c.1933). While this work and other landscapes of the time, such as MacArt's Fort (a landmark on Cavehill, on the edge of Belfast), were painted in oil, Luke was beginning to experiment with tempera, which has become the defining aspect of his work.
Landscape Composition, the working study for which is exhibited here, was the first of these tempera paintings, a commission from the poet and curator John Hewitt. The style of Luke's drawing was influenced by the development of this technique; the study for the Portrait of Alexander Irvine describes exactly how the tempera will be applied. Several of the drawings actually include colour notes for the planned painting.
This group of drawings covers almost every aspect of Luke's work, representing working studies for elements within paintings, such as the statuette for Daffodils or the baby in The Rehearsal, the apparently lost painting Mother and Child commissioned by the NSPCC, murals that were carried out for the 1938 Glasgow Empire Exhibition representing Northern Irish industry, and even a tender drawing of his own nephew as a baby.
The fascination of this archive is in its breadth of mood, style and period as well as its consistent demonstration of technical skill and imaginative power. It allows an intimate view of Luke at work, experimenting with ideas and thoughts, producing portraits of friends and quick watercolours of places that he loved, as well as allowing insight into the design and preparation of many of his most famous and complex works.