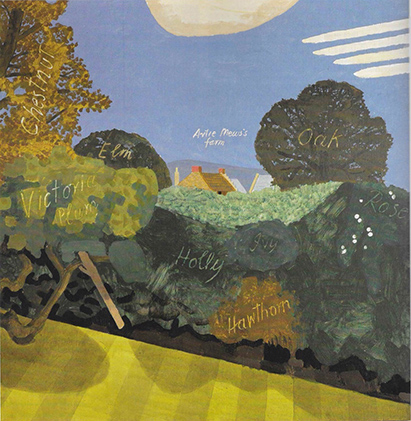 Naming of Parts, 1987

Stylistic Switchbacks
Peyton Skipwith enjoys a centenary exhibition that highlights an English Romantic's road to Modernism
In the wake of the recent revival of interest in the 1940s Recording Britain project, a fresh spotlight has been turned on the work of the participating artists: Barbara Jones, Malvina Cheek and Kenneth Rowntree (1915-97) among them. A watercolour of a pub, The Duke's Head, Farnham Royal, from this period serves as a suitable introduction to the evocative, although modest, Rowntree centennial exhibition covering 50 years of his work as painter and designer, currently on show at Pallant House Gallery in Chichester.
Rowntree was a multi-faceted artist, whose dexterity often obscured his talent. I went to visit him in the 1980s with a view to mounting a retrospective exhibition of his work, but came away baffled as to how to make sense of the several 90° stylistic turns that had marked his career. Evolution didn't seem to be part of his make-up: when he felt he had exhausted the possibilities of one style, he ruthlessly put it aside and adopted another. In his studio, neo-Romantic images jostled for attention with sunny landscapes, designs for Vogue covers and hard-edged abstracts. Thirty years on, and nearly two decades after his death, the disparity between these conflicting styles seems less dramatic.
He was a figure of his time, whose technical command enabled him to speak with authority in a variety of visual languages, permitting neither the agony of indecision nor aesthetic struggle to interfere with his work. This diversity in his paintings was underpinned by his work as a designer, especially in his textile designs for Edinburgh Weavers, in which the influence of both Ben Nicholson and Eric Ravilious are to the fore.
Rowntree first met Ravilious when he enrolled as a student at the Ruskin School of Drawing, Oxford, where the latter was teaching part-time, and his example remained an enduring influence throughout the younger man's life. Their friendship prompted the Rowntrees to settle in Great Bardfield at the beginning of the Second World War and it was memories of Great Bardfield that inspired the School Print, Tractor and Landscape, which proved to be one of the most popular exhibits in the 'Britain Can Make It' exhibitions at the V&A in 1946 and continues to have enduring appeal.
The priapic figure of the Cerne Abbas Giant, familiar to visitors to the current Ravilious exhibition at Dulwich, makes his bold presence felt in the bright, sunny painting that graces the cover of the Rowntree centennial book/catalogue. As a Quaker, Rowntree was a conscientious objector, although this didn't stop Sir Kenneth Clark from employing him, through the War Artists Advisory Committee, and commissioning him to paint several home-based works: CEMA Canteen Concert, Isle of Dogs, London E14 and A Polo Ground in War-time, the latter depicting Hurlingham's elegant grounds turned into allotments for the duration. Both works are now in the collection of the Imperial War Museum.
He was also employed as a muralist, as evidenced here by his spirited and patriotic design for the decoration of the British Restaurant at Acton. Aware of this strand of his work, Robin Darwin appointed him head of mural painting at the Royal College of Art (RCA) in 1948. A few years later, Rowntree collaborated with fellow members of the RCA staff, particularly Robert Goodden, Dick Russell and Edward Bawden, on the design and decoration of the Lion and Unicorn Pavilion at the Festival of Britain, for which he painted a quirky mural of 'British Freedoms' from Magna Carta to the suffragettes.
During the 1950s, while on holiday from his teaching and other commitments, he painted a number of delightful, informal, and family-oriented landscapes and interiors, such as Holiday Bedroom, Little Haven, Pembrokeshire and A Family in their Garden near the White Cliffs. The latter, with its decorative details – kite-flying, apple-picking and so on – was, as the catalogue informs us, a preliminary study for a hospital mural and is now in the collection of the V&A. In 1959, Rowntree became Professor of Fine Art at Durham University and it was there that he came into contact with Victor Pasmore, precipitating a further 90° turn in his work. During the 1960s and 1970s, he created a series of bright, hard-edged, geometric, non-figurative works, often incorporating lettering, either painted or collaged. He also delighted in recycling and reworking objets trouvés and bits of old packing cases, complete with stencilled names and addresses.
Despite this, he never totally relinquished his earlier Romantic vision, switching back, albeit in a more simplified vein, when the mood took him, as in such 1980s works as Findochty and Falling Rain with Raised Flag. The Naming of Parts, a beguilingly playful late landscape painted close to his Northumberland home at Acomb, is variously inscribed 'Victoria Plum', 'Holly', 'Hawthorn' and so on, as if it was an illustration to a young person's manual for the identification of trees.
Today, surveying the full range of his work, it is this quality of whimsical playfulness that gives it its coherence and defines it as the product of a unique consciousness. Once seen, Rowntree's work is unmistakable.
'Kenneth Rowntree: A Centennial Exhibition' is at Pallant House Gallery, 9, North Pallant, Chichester, West Sussex, until October 18 (01243774557; www.pallant.org.uk). A book to accompany the exhibition is published by Moore-Gwyn Fine Art and Liss LLewellyn Fine Art (£20).