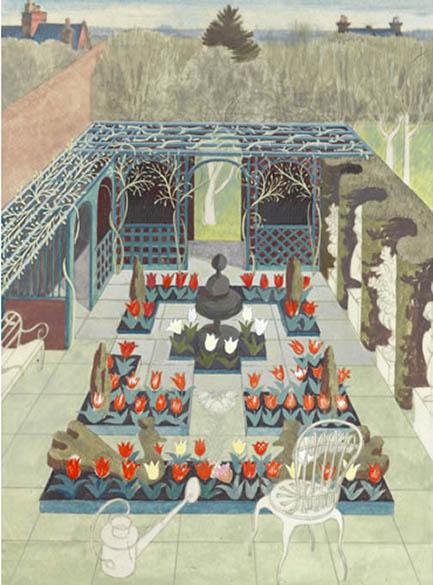 Dorothy Mahoney (1902-1984),
Walled Garden Amongst Kentish Orchards, early 1950s.
A Hanging Garden
The Royal Academy of Art is celebrating its 250th Anniversary and to commemorate this, Susannah Lovis Jewellers and Liss Llewellyn are collaborating upon an exhibition of their respective floral collections. This display, entitled 'A Hanging Garden', will showcase works by Modern British Artists alongside the Mayfair jewellers stunning collection of antique pieces. The exhibition will run from the 22nd June – 31st August 2018, and shall also work in parallel with Mathilde Nivet's summer installation in the Burlington Arcade, based around the theme of an English garden.
The art on display will range from formal arrangements in oil through to preparatory studies for larger compositions, and will feature the work of figures such as Winifred Knights, Evelyn Dunbar, Charles Mahoney, as well as former President of the Royal Academy, Sir Thomas Monnington. From the loose, bravura application of paint through to examples of acute scientific scrutiny, this display will feature a mere sample of the great variety of style and technique that can be found within this branch of twentieth-century British art. Supporting this will be a selection of botanically inspired jewellery from throughout the ages; remarkable examples of craftsmanship that continue to stand the test of time. From a 1950s hand-crafted gold pierced openwork onyx brooch to a Victorian floral diamond necklace – the trends and styles of different eras are inherently reflected in the design of all the jewellery at Susannah Lovis.
Owner Susannah Lovis stated: "We are absolutely thrilled to be supporting Liss Llewellyn Fine Arts in this exhibition. The stunning works on display will serve as a perfect blend of modern and vintage; acting as a fine balance to our antique Jewellery collection."