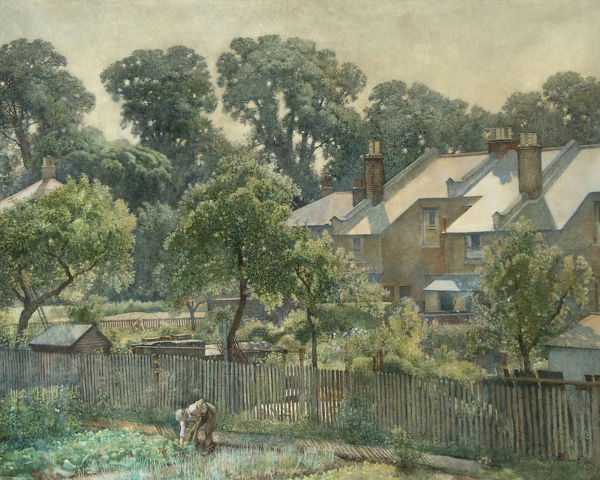 Alan Sorrell, The Long Journey, 1939
Sanctuary: Artist Gardeners 1919-1939 at the Garden Museum in Lambeth, London. The exhibition is presented in partnership with Liss Llewellyn gallery.
Review by Phoebe Jayes
There is much joyfulness in the exhibition, from the whimsical yet astonishingly precise botanical studies of Winifred Knights right down to Charles Mahoney's scribbled yet firm instructions to himself ("colour of [sunflower] seed is a dry chocolate") and the sunshine yellow walls. It seems a particularly relevant show for this time of year, as we're all cheering on the first tentative signs of spring.
Of course, this period between the two world wars sparked some more prominent, disruptive styles in art history. Movements such as abstraction, expressionism and futurism were emerging in Paris and New York. In England, however, a quieter and lesser-known rebellion was taking place. This rebellion rejected the notion that in art, garden and flower subjects are subordinate to the 'greater' topics of life. It looked towards the regenerative powers of nature and the sanctuary of the garden as an antidote to the horrors of WW1.
But the display is not only about new life, it seems rather to be a celebration of life in all its elements. There are deeper themes at play. In the wonderfully tranquil oil painting of Charles Mahoney's landlady overseeing work in her garden, 'Miss Edith inspects her Sweetpea' (c.1934), a dog rested on her hip below a hummingly calm sky, but 'Fleeing figures' (mid 1920s) by the same artist has a different tone. In this painting, two women run flailingly towards the viewer, away from a luminescent red-bricked garden wall. Meanwhile, Alan Sorrell's 'The Long Journey' (1936) features a turbulent landscape of stylised figures and forms. One man is lying limp on the ground, while, in another area of the canvas, a man wearing the same clothes strolls across a bridge. Sorrell's son suggests it is an allegory of life and death.
This is a brilliant exhibition for garden lovers as it depicts the beauty, humour, sadness and joy of the outside world through the seasons. It's also particularly interesting because many of the artists on display are little-known. "These artists slipped through the cracks, certainly not due to a lack of talent, but perhaps because they didn't shout loud enough", says George Richards, gallery manager at Liss Llewellyn. Alongside Eric Ravilious, Edward Bawden and John Nash, there's lesser-known names such as as Thomas Mannington, Kenneth Rowntree, Alan Sorrell and Charles Mahoney. The latter produced the show's vast, stand out oil painting, 'The Garden' (1950) for the Festival of Britain.
Excitingly, there's also lots of work from women artists such as Winifred Knights, who was the first female to win a scholarship to study at the School of Rome, Marion Wallace-Dunlop, who staged the first hunger strike as part of the suffragette movement, and Evelyn Dunbar, who worked with Mahoney to create the book 'Gardeners' Choice' (1937), a mixture of beautiful illustrations, personal experience and gardening instructions, and the closest thing to a manifesto that came from this group of artists.
There's a beautiful watercolour on vellum by Dorothy Mahoney (above), a manuscript-like painting of an enclosed garden with bright beds of tulips, reminiscent of a medieval hortus conclusus. There's Nancy Nicholson's witty take on a still life 'William Nicholson at Work' (1918), where the artist depicts a dwarf version of her father painting a giant vase of flowers supported by miniature ladders and workmen, and you can enjoy a premature taste of summer with Phyllis Dodd's glimpse of sunshine-struck African lilies through a doorway (above).
So why go to the exhibition? Well, if you've got some cash to splash and a penchant for gardens, it's full of beautiful horticultural paintings just waiting to be purchased. Price tags range from three to six figures, and part of the commission proceeds go to the Garden Museum's educational programme. Even if you're not looking to buy, the display is well worth a visit. In the words of George Richards, "It's a novel thing to see an exhibition of garden paintings from artists of this time. In my opinion, it is a quietly, but fiercely modern theme. It's also a quintessentially British one."
'Sanctuary: Artist-Gardeners 1919-1939' at the Garden Museum
5 Lambeth Palace
Road, London SE1 (020-7401 8865).
This article appeared in The English Garden on March 2, 2020.