Ham&High
Art works from Great War Shown

The Great War as Recorded through the Fine and Popular Arts examines the difference between various responses to war and how groups such as pacifists and women were presented. This timely exhibition of paintings, prints, drawings, sculpture, posters, photographs and ephemera is at the Strand Gallery in Charing Cross for four days next week – Remembrance week.
It includes works by Richard Carline, (illustration) a member of a large artistic family who lived in Downshire Hill, Hampstead. An Official War Artist in WWI he became known for aerial paintings, together with his brother Sydney. Afterwards they were invited to go as war artists to the Middle East and made numerous sketches from the air and ground of the war zones in Palestine, Syria, Mesopotamia and Persia in preparation for a series of large oil paintings for the newly-founded Imperial War Museum.
The exhibition has been put together by Liss Fine Art, who specialise in the unsung heroes and heroines of British art from 1880 to 1960, and David Cohen Fine Art, a husband and wife team based in North West London who have dealt in WWI art for 30 years.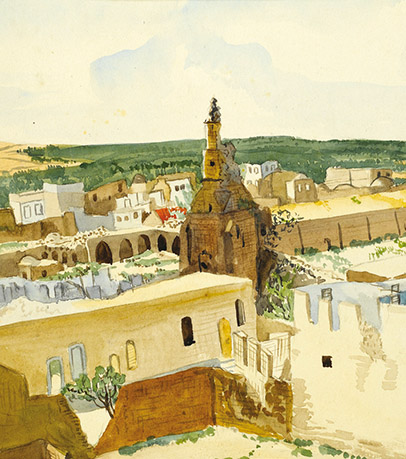 Many of the 500 items for sale are from their collection of memorabilia, commemorative art and china, miniatures and trench art.
Until Saturday, November 15
at 32 John Adam Street WC2, 11 am to 6 pm.