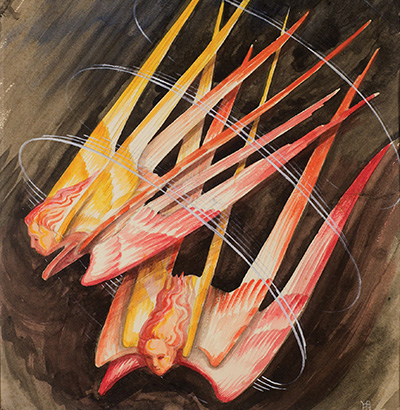 Francis Spear (1902-1979), Seraphine, design for stained glass window, 1932.
Liss Llewellyn – Art, Faith and Modernity
At Liverpool Cathedral until 30 August; then at The Mercers' Company, London EC2, from 9 September until December (07497-492756)
In general, we remember interwar modernism as a cultural movement that didn't have much time for Christianity. Nevertheless, many British artists of the period depicted Biblical subjects, and some were possessed of a deep spiritual conviction. This two-part show brings together an excellent selection of work, showcasing the gripping (if often rather awkward) ways in which some of these figures combined their avant-garde sensibilities with religious iconography. There are some familiar names here – notably an extraordinarily violent woodblock engraving by Eric Ravilious – but much of the appeal lies in works by over-looked figures. Of particular note are Helen Blair's tumultuous Scene from the Book of Job; and a bizarre, unattributed painting that deploys cubistic perspectives to splice together sections depicting the horrors of the Western Front with a terrifying vision of the Last Judgment. Prices range from £50 to £58,000.
This article appeared in the 31 August 2019 edition of The Week.