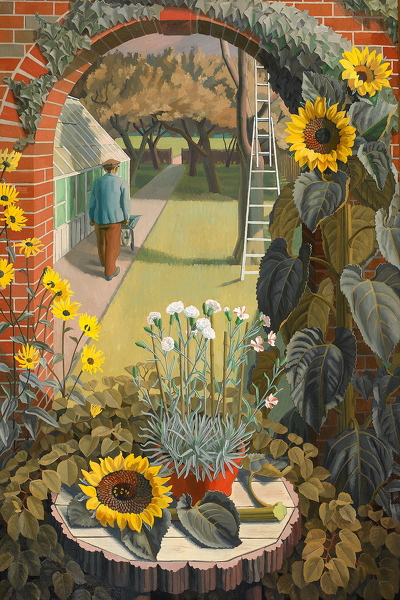 Charles Mahoney, The Garden, 1950.
Discover the Golden Age of Garden Painting

An exhibition at the Garden Museum explores horticultural art in the interwar period
Town and Country Magazine, 18 February 2020, by Brooke Theis
In the years between World War I and World War II, there was an extraordinary flux of artists who took inspiration from their flourishing gardens, turning verdant plots into works of art.
This golden age of horticultural painting will be celebrated in a new selling exhibition at the Garden Museum, which will showcase more than 20 artists of the period, such as Evelyn Dunbar, John Nash, Edward Bawden and Winifred Knights.
Following the trauma of World War I, the process of tending to flowers and shrubs represented an appealing return to nature, and to the idyll of bucolic landscapes, serving as a place of calm and shelter for artists, who often swapped cuttings by post.
Some highlights from the display include Charles Mahoney's The Garden, Evelyn Dunbar's Woman Tending Bocconea Cordata (an intimate depiction of one of her favourite plants – otherwise known as plume poppy – which she grew in the garden of her family home) and Nancy Nicholson's playful depiction of her father William Nicholson at Work.
Many of the artworks also focus intimately on the characteristics of a plant. Winifred Knight's delicate Study for Bluebells and John Nash's pencil and watercolour Periwinkle Flower Study both intensely observe their subjects with exquisite detail.
In addition to the exhibition, there will be a talk on 24 March held by Paul Liss, the co-founder of Liss Llewellyn, discussing the works on show and revealing some of the stories behind the gardens.
'Sanctuary: Artist-Gardeners 1919-1939' is at the Garden Museum, Lambeth Palace Rd, London SE1, from 26 February to 5 April.
This article appeared in Town and Country Magazine on 18 February 2020.