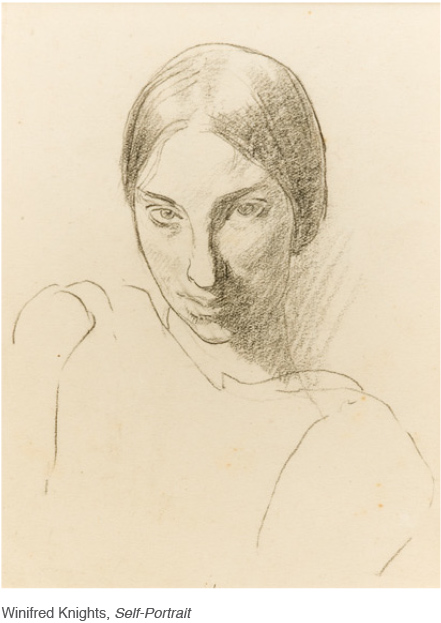 By Peyton Skipwith
Winifred Knights was a beautiful and talented artist who lived through two world wars, but could only paint when at peace. There are a few finished works by her, and it is only since the Tate Gallery acquired The Deluge a few years o that she has begun to attract any popular acclaim. This is a haunting composition, its geometrical setting of houses and landscape echoing the starkly stylised gestures of the doomed men, women, dogs and children fleeing the encroaching flood.
Knights had witnessed the biggest explosion of the First World War when a TNT plant in East Ham blew up killing 75 people and demolishing 600 houses; the memory of the resultant panic undoubtedly coloured her approach to the apocalyptic set by the examiners for the British School at Rome in 1920. And when she became the first woman to win the Prix de Rome, The Daily Graphic came out with a catching headline: Girl Artist Remodels the Flood.
Her response to her surroundings in Rome, as recorded in her letters, was breathless: 'It is a tremendous studio with grey walls and grey cement floor and sink and plenty of beds and model's throne and pillows…' The novelty was heightened by the adulation of her fellow students attracted by her wise-eyed innocence and her stylishly arty sense of dress. In another letter she describes a dance at the American Academy 'I went in my black skirt, silver bodice, white stockings and sandals, Nixon's black hat and my black mask and magenta hankie knotted around my neck.' In 1924 she married at the British School, Thomas Monnington, later president of the Royal Academy.
Knights relied heavily on the Bible for her subject matter; The Marriage at Cana, inspired by Piero della Francesca, is set unashamedly in the Borghese Gardens, whilst Santissima Trinità was a popular pilgrimage. Her last painting was the Saint Martin altarpiece for Canterbury Cathedral, completed when she was only thirty-four. It is hard to believe that she never actually painted Jairus' s Daughter, as the studies are so detailed and intense that one feels one has seen the actual work: the cell-like bedroom, the naked girl, the slippers left casually on the flagstones testify to her total immersion in her chosen subject. happily, though, she never stopped drawing. A series of small, obsessive studies of individual flowers in the exhibition date from the 1940s, shortly before her premature death from a brain tumour.
Winifred Knights, 1899-1947 runs until 13 October, Mon-Fri 9:30 – 5:30, Sat 10-1