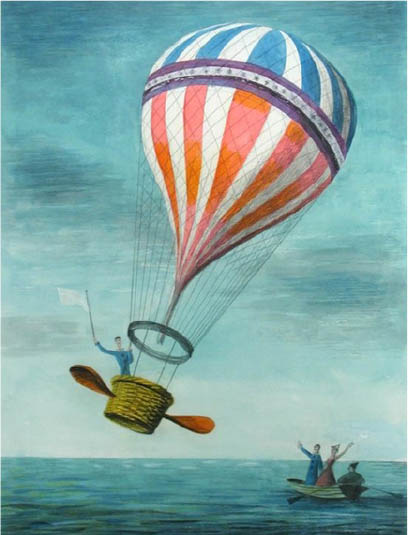 Barbara Jones (1912-1978), Hot Air Balloon.

A New Focus on Great British Art
By Carol Lewis
Investors in their thirties and forties are pushing up the prices of works of lesser known 20th century British artists.
At a recent Cheffins auction in Cambridge a painting by Winifred Nicholson, a colourist who died in 1981, sold for £44,000 – more than twice its estimate. Brett Tryner, a valuer at the auction house, says: "In the past we have looked to Europe for contemporary art investment, to Picasso, Monet and Renoir. Apart from a few artists such as Francis Bacon, Barbara Hepworth or David Hockney, Bristish artists have been relatively neglected. Now we are getting more people who want to invest in paintings. Modern art appeals, but they can't afford a Hepworth. They have £2,000 or £5,000 so they are spending it on other contemporary Britons."
The artists chosen include those featured in the V&A's Recording Britain project, set up to record lives and landscapes during the Second World War. Enid Marx, a painter and textile designer, and Barbara Jones, who painted Hot Air Balloon (right), were part of the scheme.
"In 2016 we sold a lithograph by Enid Marx for £650. Last year an identical one from the same series sold for £4,400," Mr Tryner says.
Young collectors also favour artists featured at the popular shows such as the Royal Academy's Summer Exhibition, including the painter Ken Howard, or the likes of Winifred Knights and Dora Carrington, who featured at smaller galleries. Evelyn Dunbar, the artist and illustrator, became popular after an expert on the BBC's Antique Roadshow described one of her unknown works as a masterpiece. "There has been a snowball effect," Mr Tryner says.