A letter from the artist to the previous owner, dated 05 august '69, reads;
"Dear S and D, Thank you so much for sending me the photographs of my work you have, what I consider to be some very important paintings and it gave me great pleasure to see them again.
I hope that they will continue to fascinate and give you pleasure. Your choice is excellent.
Regarding '13 ELEMENTS ON BLACK (SOUND + SILENCE)' it is not acrylic board but Oil paint on black acrylic. I think that is important.The provenance is Lord Strauss as you say. He and his wife … …… of good work. As you know he was a very active politician.It has been a fascinating experience for me to see these works again and to know that they belong to people who have knowledge of art. With best wishes to you both, Jack Smith"
Of similar works from this period, now in the Tate collection: (Activities, Major and Minor (1972) and Sounds and Silences (1975) Smith commented: 'I think of my paintings as diagrams of an experience of sensation. The subject is very important.
The sound of the subject, its noise or its silence, its intervals and its activity. When I talk about the sound or the music of the subject, I'm not always thinking in terms of a symphony, but groups of single notes. The closer the painting is to a diagram
or graph, the nearer it is to my intention. I like every mark to establish a fact in the most precise, economical way. I have been consistently interested in light; between 1952–6 as an outside source and since then as a quality within the painting. Light as
a subject no longer interests me, but it's still essential that each painting contains it. This kind of remoteness I feel makes one more aware of certain aspects of a subject that cannot be visually explained without preconceived ideas getting in the way.
There is silence in the earlier paintings though that is not the subject. Later on, that silence became the subject'.
(Conversation with Jack Smith, 5 April 1978, and a letter of 27 May 1978, Tate Archive)
Similar works from this period are in the collection of
The Fitzwilliam: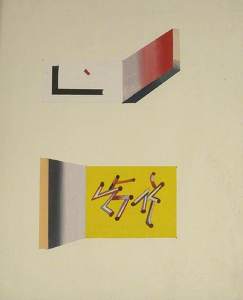 The Tate: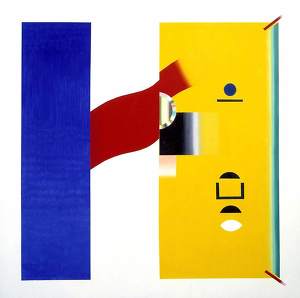 The Arts Council: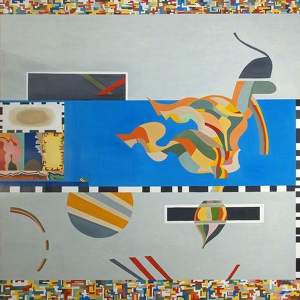 Smiths work is also in the following collections: Arts Council; Auckland City Art Gallery, New Zealand; Berlin National Gallery; British Council; Cardiff Art Gallery, Contemporary Art Society; The City Art Gallery, Manchester; City Art Gallery, Plymouth; Ferens Art Gallery, Hull; Graves Art Gallery, Sheffield; Gothenburg Museum, Sweden; Government Art Collection; Guggenheim Museum New York; Leicester City Art Gallery; Manchester City Art Gallery; Scottish National Gallery of Modern Art, Edinburgh; Tate Gallery, London; The Art Gallery of South Australia, Adelaide; The Art Gallery of New South Wales, Sydney; The National Gallery of Victoria, Melbourne; The Victoria & Albert Museum, London; Walker Art Gallery, Liverpool; Whitworth Art Gallery, Manchester; Welsh Contemporary Art Society