Literature: Llewellyn, Sacha, and Paul Liss. Portrait of an Artist. Liss Llewellyn, 2021, p.286.
Exhibited:​Royal Birmingham Society of Artists 1932 (?)
The artist wears an artfully-contrived version of fashionable dress that is conventional, even conservative in style, but which employs unusual, eye-catching colours, suggesting that he is a man of aesthetic inclinations and singular taste.
We are grateful to Jayne Shrimpton for her assistance.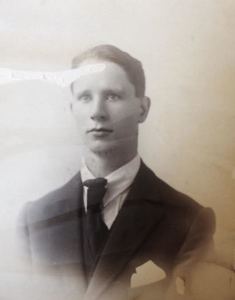 Bernard Blane Withey as a young man
The picture in its frame: