Exhibited: The Lightbox, Woking, Out of the Shadows, 2020, cat 93
In 1966 Finney spent a year in America (on an exchange program) at the University of Wisconsin; living in Milwaukee during which he produced a vibrant body of new work inspired by friendships with American artists such as Joe Freibert and Danny Pierce. This composition encapsualtes Finneys excitement on taking this transatlantic flight and the new lease of life it gave to him in terms of artistic creativity.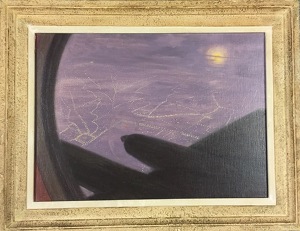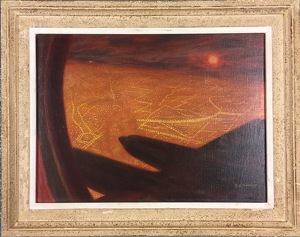 Ray Tattle has suggested that Finney's composition was conceived while flying in a Vickers Viscount airliner with its large circular windows, through which the distinctive slim engine nacelles of its Rolls Royce Dart turbo – prop engines can be seen in silhouette.