Literature: Llewellyn, Sacha, and Paul Liss. Portrait of an Artist. Liss Llewellyn, 2021, p.94.
This etching was commissioned by the Print Collectors Club in 1925, and used as their Presentation Plate that year. Founded in the 1920s by the Royal Society of Painter-Printmakers (RE), the Print Collectors Club – still extant to this day – aims to promote printmaking and the work of their members. It has their monogram lower left.
The trial proof of this print is one of two of Ray-Jones' prints held by the Ashmolean Museum, Oxford. An editioned version of this print can also be found in the Victoria & Albert Museum.
The sitter in this print was the artist's future wife, Effie Irene Pearce, whom he married in 1926.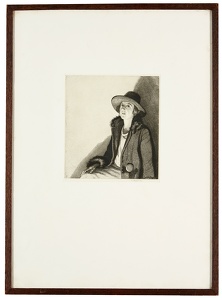 We are grateful to Michael Campbell for assistance