The daffodils and trees in bud capture the winter turning into spring.This provides a poignant record of Britain emerging from its post war austerity.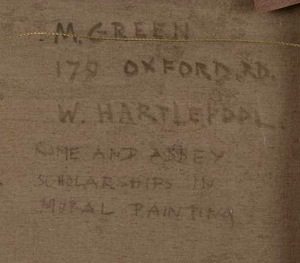 After spending World War II in the lake district, as a student at the relocated Royal College of Art, Margaret Green returned to London, (with her fellow student, and now husband, the artist Lionel Bulmer) to take a small studio in Elm Park Gardens, Chelsea, (moving later to Lucan Place opposite the Michelin Building). It is likley that this scene records nurses from the nearby Chelsea Hospital, going to or returning from shifts.
It is possible that Green was inspired by Evelyn Dunbar's celebrated war time image The Queue at the Fish-shop, which includes similar composition devices, especially of the figure leaning forward into the foreground, (in the case of the Dunbar, a self portrait).


(Art.IWM ART LD 3987) Copyright: © IWM.
Margaret Green and Lionel Bulmer were the subject of an exhibtion and catalogue at Messums in 2010, in which Dr Jane Hamilton, Art historian and archivist at Messum's noted:"Although by 1957 Prime Minister Harold Macmillan could declare that Britain had "never had it so good", when the V&A held a popular exhibition in the immediate aftermath of war, called "Britain can make it!" it was widely sarcastically renamed as "Britain can't have it".The period from which these pictures date was therefore one of struggle, of simple pleasures and of making do. The paintings arepoignant records of the simple aspirations of beleaguered Londoners, slowly climbing out of a period of austerity, and as such they are testament to the strength and optimism of the human spirit".