Literature: Llewellyn, Sacha, and Paul Liss. Portrait of an Artist. Liss Llewellyn, 2021, p.229.

Rose Gwynneth Cobden Holt (1909-1995) was a sculptor, in a variety of media including ivory who was born in Wednesbury, Staffordshire the daughter of a butcher. She studied at Wolverhampton School of Art, 1925-30 under Robert Emerson and at the Royal College of Art under Richard Garbe. Gwynneth Holt was married to the former President at the RBS, T.B. Huxley Jones and with him exhibited at the Aberdeen Artists' Society, RA, RBSA, Royal Glasgow Institute of the Fine Arts, Royal British Society of Sculptors, Royal Scottish Academy, Society of Portrait Sculptors, Society of Scottish Artists and the Scottish Society of Women ArtistsHolt was a Fellow of the Royal British Society of Sculptors and an Associate of the Royal Birmingham Society of Artists. Examples of her works are in St Felix' School in Southwold, St Margaret Church, Downham, St. Mary's, Broomfield, Essex and the Church of the Immaculate Conception, Chelmsford. Others are held by Aberdeen Art Gallery, Leamington Spa Art Gallery, Newport Art Gallery and Wolverhampton Art Gallery.
Holt served as the model for this painting and a related on of the Virgin, now in the collection of Wolverhampton Art Gallery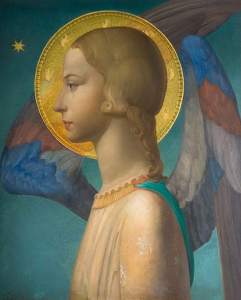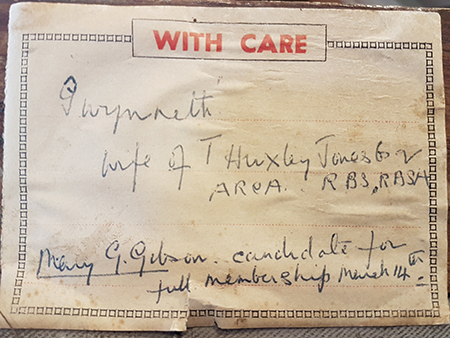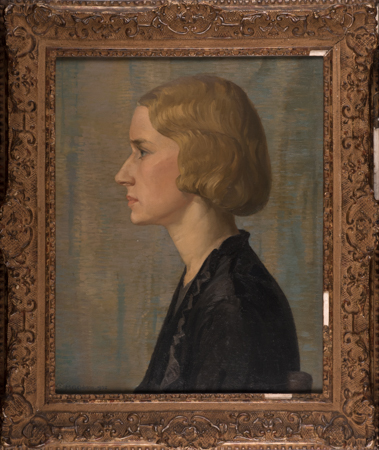 We are grateful to Daniel Dullaway for assistance.