Literature: Llewellyn, Sacha, and Paul Liss. Portrait of an Artist. Liss Llewellyn, 2021, p.121.
Phillada and John Moody were first cousins. This is because:
John Moody always wanted to be a painter, but his early success as an actor on the West End stage led him into theatre and opera production, for which he is mainly remembered. He was very fond of his Aunt Margaret who had married the painter William Sewell. They had met at the Herkomer Art School in Bushey, Herts (Their archive is now at Bushey Museum and Art Gallery, including her miniatures and some of their paintings.)
William was killed in action during the battle of Arras in 1917 and it was this event that John Moody went on to commemorate in two of his early works, the Soldier on the Wire and Portrait of Margaret Sewell. In the latter, John depicts his aunt still grieving ten years after William's death.
Phillada was seven when her father was killed. The bond she formed with her mother Margaret as a result of William's death was unbreakable. She trained first as a singer at the Webber Douglas School of Singing and Drama (John Moody and his future wife Nell Burra were also there) before moving into repertory theatre where she learned her trade as an actor. She appeared in numerous stage, TV and big screen productions.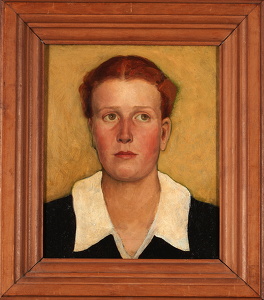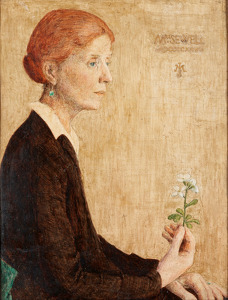 Margaret Ley, a talented miniaturist, and William Sewell, a talented artist and book illustrator, first met when students at Herkomer's Art School. In this poignant portrait of 1927, John Moody expresses the grief felt by Margaret on the tenth anniversary of her husband William's death – he died in 1917, aged 41, at the battle of Arras.
We are grateful to Richard Thompson for assistance.