Literature: Llewellyn, Sacha, and Paul Liss. Portrait of an Artist. Liss Llewellyn, 2021, p.250.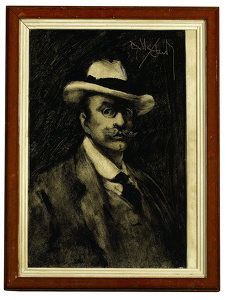 In a period fruitwood frame with reeded gesso slip
Exhibited: Brush, Pen and Pencil, An Exhibition of Original Paintings and Drawings by Early Members of the London Sketch Club Presented by David Cohen, King Street Galleries, London, March-April 1987.
Literature: Dudley Hardy by M.H. Spielmann which appeared in the Magazine of Art, Vol. XX, November 1896 – April 1897
This self portrait was reproduced in the Magazine of Art in 1896
Dudley Hardy was born in Sheffield in 1867. He was educated at Boulogne School and at University College, London; later travelling to Europe to study art in Dusseldorf, Antwerp and Paris. It was during his time in France that he came in contact with the poster art of Cheret and Lautrec and their work had a lasting influence on his style. As a poster designer Hardy's strengths lay in his great success in translating the fin de siècle achievements of these French artists into the idiom of popular English humour found in the comedy plays of his day,. sel