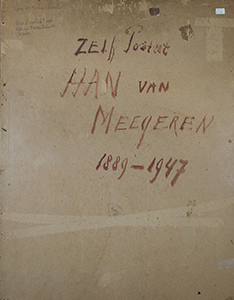 In the summer of 1914, van Meegeren moved his family to Scheveningen. That year, he completed the diploma examination at the Royal Academy of Art in The Hague. The diploma allowed him to teach, and he took a position as the assistant to Professor Gips, the Professor of Drawing and Art History, for the small monthly salary of 75 guldens. In March 1915, his daughter Pauline was born, later called Inez.[ To supplement his income, Han sketched posters and painted pictures for the commercial art trade, generally Christmas cards, still-life, landscapes, and portraits.
Van Meegeren showed his first paintings publicly in The Hague, where they were exhibited from April to May 1917 at the Kunstzaal Pictura. In December 1919, he was accepted as a select member to the Haagse Kunstkring, an exclusive society of writers and painters who met weekly on the premises of the Ridderzaal.  He undertook numerous journeys to Belgium, France, Italy, and England, and acquired a name for himself as a talented portraitist. He earned stately fees through commissions from English and American socialites who spent their winter vacations on the Côte d'Azur. His clients were impressed by his understanding of the 17th-century techniques of the Dutch masters. Throughout his life, van Meegeren signed his own paintings with his own signature.
From 1923, after the break up of his marriage, he dedicated himself to portraiture and began producing forgeries to increase his income.
His most successful forgery was Supper at Emmaus, created in 1937 while living in the south of France. This painting was hailed as a real Vermeer by famous art experts such as Abraham Bredius. Bredius acclaimed it as "the masterpiece of Johannes Vermeer of Delft" and wrote of the "wonderful moment" of being "confronted with a hitherto unknown painting by a great master".
In December 1943, the van Meegerens moved to Amsterdam where they took up residence in the exclusive Keizersgracht 321. His forgeries had earned him between 5.5 and 7.5 million guilders (more than twenty million pounds in today's terms) which he used  to purchase a large amount of real estate, jewelry, and works of art, and to further his luxurious lifestyle. (
In a 1946 interview, he told Marie Louise Doudart de la Grée that he owned 52 houses and 15 country houses).
During World War II, wealthy Dutchmen wanted to prevent a sellout of Dutch art to Adolf Hitler and the Nazi Party, and they avidly bought van Meegeren's forgeries, thinking them the work of the masters. Nevertheless, a falsified "Vermeer" ended up in the possession of Reichsmarschall Hermann Göring. Following the war, the forgery was discovered in Göring's possession, and van Meegeren was arrested on 29 May 1945 as a collaborator, as officials believed that he had sold Dutch cultural property to the Nazis. This would have been an act of treason, the punishment for which was death, so van Meegeren confessed to the less serious charge of forgery instead. He was convicted on falsification and fraud charges on 12 November 1947, after a brief but highly publicized trial, and was sentenced to a modest punishment of one year in prison.[3] He did not serve out his sentence, however; he died 30 December 1947, in the Valerius Clinic in Amsterdam, after two heart attacks.