Literature: Llewellyn, Sacha, and Paul Liss. Portrait of an Artist. Liss Llewellyn, 2021, p.279.
Victor Moody's approach to art originated and was largely formed at the Battersea Polytechnic of Arts and Crafts during and immediately after the Great War. Enrolling in 1913, Moody studied for a lengthy seven years. In a rare interview, he recalled life drawing classes under the direction of the artist Henry Cogle, who instilled in him a taste for imaginative figure compositions. Moody also became a good friend of the artist Anna Airy, the wife of another tutor Geoffrey Buckingham Pocock. Airy painted portraits in the grand manner but it was the elaborate arrangements that
she made in her studio for figure compositions that most impressed him.
Moody produced much of his best work in the 1930s and '40s, alternating subjects from Greek myth with pastoral figure compositions at the R.A. annual exhibitions as well as exhibiting at the Royal Society of British Artists, the New English Art Club, and the Paris Salon. Towards the end of the '30s his career was gathering momentum and in 1939 he was given a one person exhibition at the Goupil Gallery which featured most of the important compositions. In addition to his self-portraits, other individual sitters included George Bernard Shaw, J.B. Priestley and Ernest Thesiger.
This work rather closely resembles Moody's 'Self-Portrait, 1929'. This was the artist's diploma portrait, painted at the end of his studies at the Royal College of Art (private collection).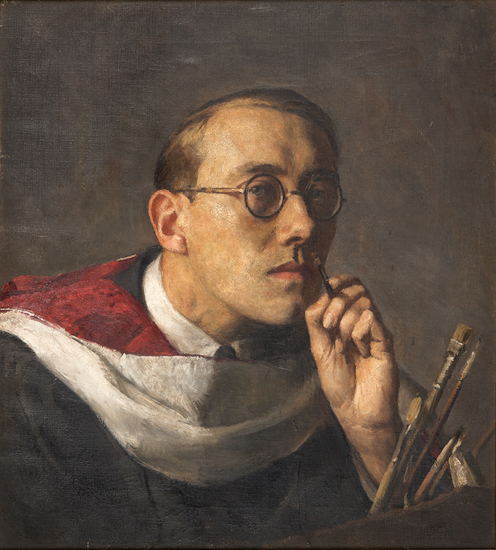 Self-Portrait, 1929. Diploma portrait painted at the end of his studies at the Royal College of Art, (private collection).