The Fleet Review to mark King George V's coronation was held at Spithead on June 24 1911. Among the 165 vessels at anchor were two lines of merchant ships 'numerous enough to constitute a not inconsiderable review of themselves'. Many has been hired by the Admiralty to accommodate MPs, civil servants, foreign diplomats and reporters, photographers illustrators from Britain and abroad to witness the world's most powerful navy being inspected by the King-Emperor of the world's largest empire.
Ian Jack has suggested that this picture shows the deck of an Ellerman Line ship, the City of Calcutta, which lay at anchor in the second line during the Review.
In 1904, Matania joined the staff of The Sphere where some of his most famous work was to appear, including his illustrations of the sinking of the Titanic in 1912. His reputation was further enhanced by WW1 through which he became acclaimed for his graphic and realistic images of trench warfare.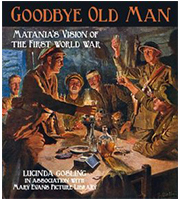 We are grateful to Ian Jack for assistance.