Artists at Curwen was the subject of a Tate exhibition with an accompanying book by:Pat Gilmour  (Tate Publications:London) in 1977.
Amongst the many well-known graphic artists who worked for the press, were Eric Ravilious, Edward Bawden, Claud Lovat Fraser, Paul Nash and Barnett Freedman. The Press's output included books, posters and published ephemera.
Welchman's Hose is a collection of poems by Robert Graves. According to the Fleuron, it contains all the poems written by Graves since Mock Beggar Hall'. The title derives from a passage in John Skelton's Garden of Laurel:And after conveyance as the world goes, It is no folly to use the Welchman's Hose.'
The book contains five wood engravings. Paul Nash worked on them as early as 1923. The bird which was also used as a motif to advertise Christmas cards for Elsa Booth of Oxford also appears on the front of the CEMA catalogue for an exhibition of Applied Design by Paul Nash' in 1943. Also entitled Jack in the Box, this magpie was used by the Curwen Press over a long period of time. Greeting cards were printed from the original wood block and made available from Curwen Prints in the early 1970's.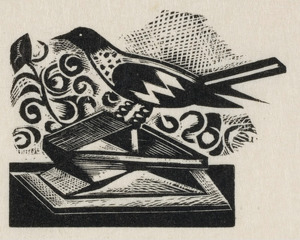 We are grateful to Brian Webb for assistance