Literature: Evelyn Dunbar: A Life in Painting, Christopher Campbell-Howes, October 2016, page 61.
Florence Dunbar (Evelyn's mother) and her sister Clara Cowling, both originally from Bradford, painted with the energy of the enthusiastic amateur, Clara perhaps more adventurously than Florence, who found her niche in endless floral still-lifes. The attribution of this portrait of Dunbar, relaxing in a pink dress under a parasol in the garden at The Cedars (the family home in Strood), is authenticated by a photograph in the Dunbar family album of Clara Cowling painting it. The photograph also shows Paul, the Dunbars' dog, trying to jump up on to Evelyn's lap, something perhaps beyond the reach of her Aunt Clara's brush.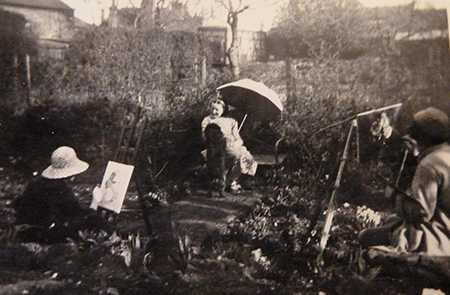 We are grateful to Christopher Campbell-Howes for assistance.