Literature: Llewellyn, Sacha, and Paul Liss. Portrait of an Artist. Liss Llewellyn, 2021, p.167.
Gilbert Spencer was 16 in 1909 and had just started his formal training at The Ruskin School in Maidenhead. Stanley Spencer was completing his first year at the Slade School of Fine Art in London, under Henry Tonks and his contemporaries included Dora Carrington, Mark Gertler, Paul Nash, Edward Wadsworth, Isaac Rosenberg and David Bomberg.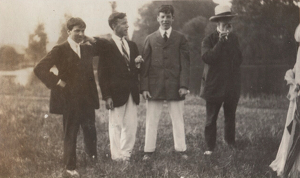 Stanley and Gilbert Spencer, together with their father, William, was taken by Philip Morrell in 1914,
copyright The National Portrait Gallery.