In 1904, Matania joined the staff of The Sphere where some of his most famous work was to appear, including his illustrations of the sinking of the Titanic in 1912. His reputation was further enhanced by WW1 through which he became acclaimed for his graphic and realistic images of trench warfare.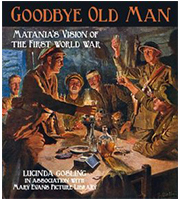 IN 1912 the Royal Flying Corps was established. The RMS Titanic sank after hitting an iceberg. Over 1500 crew and passengers died.
The Blue Rider Almanac was published in Munich, containing reproductions of more than 140 multi-ethnic artworks, articles on the visual arts and music and Vasilly Kandinsky's experimental theater composition The Yellow Sound.
Austrian writer Frida Strindberg opens The Cave of the Golden Calf, a London nightclub decorated by Spencer Gore, Wyndham Lewis, Charles Ginner and Jacob Epstein with its motif by Eric Gill; it becomes a haunt of Futurists.
In Paris, Albert Gleizes and Jean Metzinger publish the first major treatise on Cubism, Du "Cubisme", followed by André Salmon's La jeune peinture fran√ßaise including Histoire anecdotique du cubisme.
Exhibition of Italian Futurism transfers from Paris to the Sackville Gallery in London, organised by Robert René Meyer-Sée.
Second Post-Impressionist Exhibition organized by Roger Fry in London.
ARTWORK PRODUCED IN 1912
Albert Gleizes, 1912, l'Homme au Balcon,
Giacomo Balla – Dynamism of a Dog on a Leash
Vanessa Bell – Three portraits of her sister Virginia Woolf
George Bellows – Men of the Docks
David Bomberg – Vision of Ezekiel
Pierre Bonnard – St Tropez, Pier
John Currie – Some Later Primitives and Madame Tisceron
Marcel Duchamp – Nude Descending a Staircase, No. 2
Roger Fry – Portrait of Edith Sitwell
Wyndham Lewis – Smiling Woman Ascending a Stair
Amedeo Modigliani – Tête (sculpture)
Piet Mondrian – Gray Tree
William Orpen – Portrait of Gardenia St. George With Riding Crop
Pablo Picasso –Still Life with Chair Caning
Stanley Spencer – The Nativity
IN 1912 Jackson Pollock, (d.1956) Conroy Maddox, (d. 2005) and Keith Vaughan, (d.1977) were born.
Elizabeth Forbes, (born 1859); and Lawrence Alma-Tadema, (born 1836) died