Literature: Llewellyn, Sacha, and Paul Liss. Portrait of an Artist. Liss Llewellyn, 2021, p.254.
Colin Gill attended the Slade at a vibrant time; dressed in dramatic, bohemian clothes' he frequented the Café Royal, dining in the ground-floor room with his exalted artist friends' including Augustus John. While never formally associated with the self-styled Slade Neo-Primitives', Gill shared a close friendship with Mark Gertler and William Roberts. These artists, nourished by the cumulative effect of a series of important exhibitions of early Italian painting held in London before the war and Roger Fry's Post- Impressionist exhibitions in 1910 and 1912, worked in varying degrees towards a synthesis of contemporary French and early Renaissance painting in the search for a new visual language through which modern art could be addressed.
In 1913 Gill became the first recipient of the Rome Scholarship in Decorative Painting to the British School in Rome. His scholarship was interrupted by the First World War. Gill joined the Royal Garrison Artillery and served with them on the Western Front as a second lieutenant with the 17th Heavy Battery until 1916, when he was seconded to the Royal Engineers to work as a front-line camouflage officer. He was invalided back to England, with gas poisoning in March 1918, and spent several months recovering at the Hospital for Officers on the Isle of Wight In May 1918, he offered his services as a war artist – resulting in a highly distinctive cycle of oils, most of which are in the collection of the Imperial War Museum.
Gill returned to The British School at Rome in 1919 to complete his Scholarship. He departed in May 1921, having completed his masterpiece Allegory.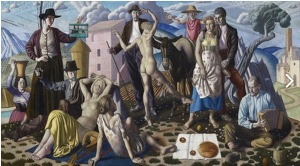 This includes a celebrated portrait of Winifred Knights, who as the first woman to win the coveted Scholarship in Decorative Painting, and in effect replacing Gill, arrived in November 1920.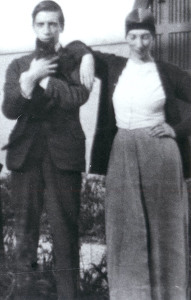 Colin Gill and Winifred Knights at The British School at Rome, 1921