Exhibited: London, The Royal Academy Summer Exhibition 1920 (72).
In a period gilded reeded oak frame with black outer moulding.
C.R. Ashbee, who sat for Strang, recalled that:….in each of his portraits there is some touch of his sitters' ugliness revealed in the beauty of the draughtsmanship….those of us who …have sat for our portraits and prize the results….are also grimly conscious of an unpleasant something in ourselves that we don't mention but that our love of truthfulness would not have us conceal…they have the quality of Dr Johnson, they are lexicographical (CR Ashbee, unpublished typescript of memories, Victoria and Albet Museum, vol IV, p. 71, quoted in Athill, William Strang, 1981, p 22)
Strang often animated his portraits with striking and unusual colour combinations. The same red background is used to great effect in his portrait of Panchita Zorolla, (Manchester City Art Gallery,1916).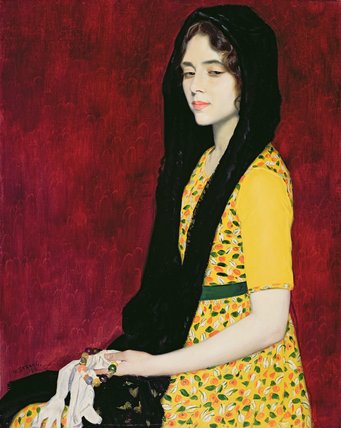 Horders'parents lived next door to the Strangs at 6 Hamilton Terrace (now re-numbered as 18 HT) . In 1916, when she was only 18 she founded an experimental theatre in the converted stable and coach house of her parents' home.
Her fledging theatre, The Garden Theatre, was supported by GK Chesterton and here she staged and directed foreign and original one-act plays. John Gielgud was amongst the actors who performed.
Her first recorded role as a professional acrtress was as a maid in an early wireless broadcast from London of Oliver Goldsmith's 'She Stoops to Conquer' in October 1925. Miss Horder then appeared in the play The Lady of Belmont (by St John Ervine), 1926-1927, at The Arts Theatre, London. She subsequently played on Broadway in a number of productions, including the Laurence Olivier production of Romeo and Juliet starring Vivien Leigh in the 51st Street Theatre in May 1940 where she played Lady Montague. Her father was the architect Percy Morley Horder FRIBA 1870-1944
We are grateful to Jeanne Strang and Simon Edsor for assistance.