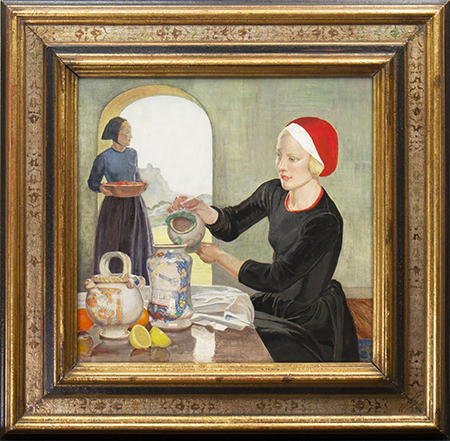 Exhibited: London, Royal Academy Exhibition, (878). 1933; Royal Glasgow Institute, 1933
Harnessing the soft summer light, Burleigh captures the peaceful rhythm
of morning chores. Freshly sliced lemons glisten on the table. The
albarello, emblazoned with a coat of arms, is brightly painted with blues
and yellows. With their thick braided handles fashioned out of tin-glazed
earthenware, the pitchers are painted in contrasting hues. From the
vibrant carpet in the bottom right to the muted grey-blues of the servant's
clothing, Burleigh utilises colour to avoid fixation on the vibrant red
turban, directing the eye diagonally through the picture. Inevitably, our
gaze rests upon the blonde figure (the artist's daughter, Veronica, herself a
painter and frequent model for her mother). Veronica's delicate features,
almond-shaped eyes and high cheekbones reveal modern influences. In the
still room, or pantry, she prepares the morning libations.
A longstanding member of the Society of Painters in Tempera,
Burleigh executed her painting in egg tempera. Building the shadows
from dark to light, Burleigh used delicate brushstrokes to add texture
to the grain of the floor and to the plaster wall with its green and blue
undertones. A gilded and ebonised Cassetta frame with sgraffito scrollwork
adds to the picture's intimacy. A label affixed to the back indicates the
work of framer James Bourlet & Sons, dated 6 January 1928.
In the summer of 1933, Burleigh exhibited the painting at the Royal
Academy (cat. #878), hung in galleries specifically set aside for displaying
watercolours and temperas, along with her two other submissions. The
1933 exhibition was a family affair – both her husband Charles and
daughter Veronica exhibited works.
Commentary by Abbie N. Sprague, expert on the history of tempera painting and the British Arts and Crafts
Movement. She is currently researching Edward Steichen and his garden at Voulangis.
Labels verso: James Bourlet & Sons, Frame Makers & Packers, 17 & 18 Nassau Street, London, with title, artist's name, ref. no. 15150 and dated 6th January 1928; together with Royal Academy Exhibition label, dated 1933; Dicksee & Co., Glasgow, dated 1933; T& R Annan & Sons Ltd, 139 West George Street, Glasgow with inscription "Royal Glasgow Institute, 1933"; and one other inscribed with title, artist's name, address and numbered "No. 1".
Between 1930 and 1935 Burleigh had 17 exhibits at the RA and all are listed as tempera. Either side – from 1912 to 1945 she exhibited regularly at the RA but the medium of her submissions is not noted.