Milne was in his mid twenties when WW1 started, having just completed a five year training at the Edinburgh School of Art.  This image is likely to have been painted on the spot when Milne saw active service in France.
Milne exhibited widely, (at The Royal West of England Academy and the Royal Scottish Academy). This painting was included with the reference No 6 in an exhibition which has yet to be identified  under the  evocative title, of the artist's own making ,The Weird Barrier.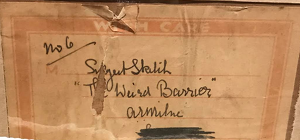 A number of his works are in public collections including two WW2 scenes in Bristol Art Gallery showing  fire fighting subjects.  Too old to serve during WW2 Milne is likely to have himself served as an auxillary fireman or in some other capacity on the Home Front.