A few examples of studies for Scandal included in this sketchbook;
Right foot – left foot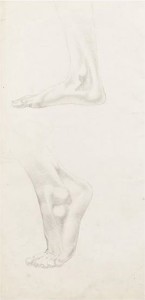 Right hand – left hand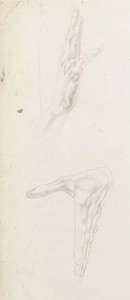 Clenched feet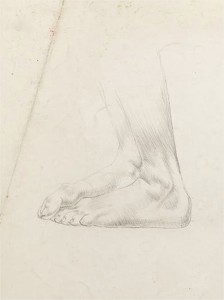 Hand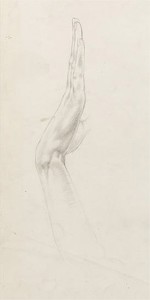 Nude with hands raised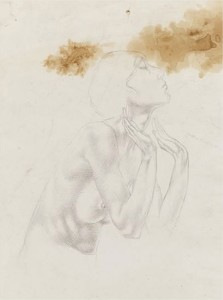 Model with coffee cup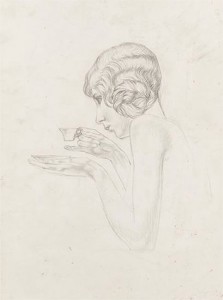 Scandal depicts a naked couple embracing while an audience of
disapproving onlookers in the background peer at them with mouths agape
and hands raised in horror. The 1.6 x 1.5 metre relief was boldly
displayed in the drawing room of society couple Henry and Gwen Mond
where it both scandalised and satirised 1930s polite society with its
reference to the couple's earlier ménage à trois with the writer
Gilbert Cannan.
Scandal was commissioned by Henry Mond (heir to the ICI fortune and
later the second Lord Melchett) and his wife Gwen in 1930 for their
drawing room at Mulberry House, Smith Square, Westminster. The relief
is a humorous play on the relationship between the couple's public
notoriety and private life. It is a highly original work of art, rich
in symbolism, and was an integral part of their celebrated 1930s Art
Deco interior.
Mark Jones, Director of the V&A, said: "Scandal is a wonderful
example of Jagger's work and was a daring riposte by Henry Mond to
1930s society. This is a welcome addition to the V&A's 20th century
British Sculpture gallery."
Charles Sargeant Jagger was born in Kilnhurst near Sheffield in 1885.
In 1908 he was awarded a scholarship to study at the Royal College of
Art where he studied sculpture and modelling until 1911. He served in
the First World War in the Dardenelles and on the Western Front and was
wounded three times, the last time seriously. In 1918 and he was made
an Official British War Artist for the Ministry of Information.
Following the war, he undertook numerous war memorial commissions of
which the most famous is the Royal Artillery Memorial at Hyde Park
Corner (1925).