Edward Halliday was awarded the Rome Scholarship in Decorative Painting in 1925, and spent three years abroad at the British School. An informal study from this time is typically evocative of life at the School, and shows Edward Halliday's fiancee, Dorothy Hatswell, alongside fellow student Russell Meiggs (holder of the 1925 Pelham Studentship) reading and napping upon their deck chairs, with a view of the Borghese Gardens behind them.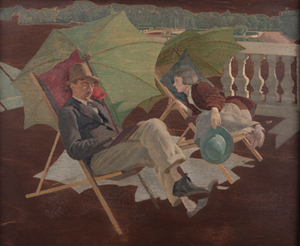 This portrait dates to the year after Halliday returned to England, and may be based upon an earlier encounter from his time in Italy. He certainly travelled extensively within Italy, as letters to his mother testify that he had visited sits such as Mount Vesuvius and the Island of Capri, amongst other spots.
Halliday would go on to become one of the most prominent portrait painters of his day, taking commissions from an array of distinguished political figures, and foreign heads of state. This list included Sir Winston Churchill, Nnamdi Azikiwe, Kenneth Kaunda, Forbes Burnham, and King Olaf of Norway.