In its original black and silver Italian bolection moulding frame.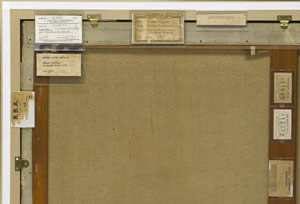 The Thirties. The Arts in Italy Beyond Fascism, Palazzo Strozzi, Jan 2013.

Hypnos was commissioned in 1927 by Sir Benjamin
Johnson, for his house Abbot's Lea, Liverpool, and completed
in 1928 during the last year of Halliday's Rome Scholarship.
Johnson was an insomniac, hence the choice of Hypnos, god of
sleep, and the painting hung in the corridor outside Johnson's
bedroom. The iconography was devised by Dorothy Hatswell, a
classicist and assistant librarian at The British School at Rome,
whom Halliday married in 1928. The painting includes portraits
of Halliday's friend and fellow Rome Scholar in Painting Robert
Lyon as well as Bobby Longdon, a friend and classics scholar
at The British School at Rome.