A limited edition of 8 impressions, printed on ARCHES  (250 g/m²) paper, were produced  in 2008 by David Maes.
This etching was created on the return from the Austin's honeymoon.  The newly-wed Phyllis Austin (Kneafcy), a Canadian Opera singer, is shown sleeping in the cabin of the Cunard ship on which they sailed from Canada in 1932. A box of her favourite Laura Secord Candies can be seen on the bedside table.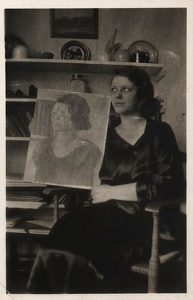 Phylis Austin with one of the portraits depicting herself
We are grateful to Portia Birch for assistance.