Exhibited: Kirkcaldie and Stains, Wellington, 1936
The death of Job's sons 'Äì 'Äúbehold, there came a great wind from the wilderness, and smote the four corners of the house, and it fell upon the young men, and they are dead'Äù 'Äì is depicted by Helen (Nell') Blair in a modern form of an almost Renaissance setting, with a biblical allegory in the foreground and scenery in the background. The collapsing walls provide a geometrical frame for the evocative expression of the fate of Job's sons. We see the table at which they were eating and drinking before destruction arrived.
The stylised figures, and the biblical subject, suggest that the painting was influenced by the English Modernist movement, which included artists such as Paul Nash and Stanley Spencer, and there are similarities of composition with Winifred Knights' The Marriage at Cana, which was widely reproduced in art journals of the period. Blair was recognised by contemporary critics as highly innovative and 'Äúattacking the real problems of painting'Äù.
Before Blair and her husband, the glass engraver John Hutton, left New Zealand for England in March 1936, they mounted an exhibition at Kirkcaldie and Stains, Wellington's leading department store, in which Scene from the Book of Job was described by the local newspaper as 'Äúintriguing'Äù. Little is known about the life and work of Helen Blair since her arrival in England, but for this striking painting alone she deserves to be remembered.
Commentary by Lord King, who served as Governor of the Bank of England between 2003-2013.
Further research on Helen Blair is much needed.
The research note below has kindly been provided by the artist's daughter fills in some of the gaps about her life in England:
She did many collages and sold a lot in local exhibitions in Cambridge, where she lived until her death in 1997. Her collages were mostly non-figurative (although sometimes one or two small images of people appeared in them), and small – around 40×60 cm. She wrote a book on Collage (photo attached) and was particularly interested in Kurt Schwitters. She also wrote many other books – on Rug weaving, Gemstone craft, Mosaics, Woven structures (cord, string and rope as art), etc. A busy and creative person!
We are grateful to Margaret Brentall for the following notes which appear in – John Hutton; Artist and Glass Engraver (Art Alliance, 1986)
In March 1931, while painting and holding an occasional small exhibition, John Hutton met a New Zealand girl who had studied art in Paris. She was Helen Blair, the daughter of a judge, and once she came upon the scene a new chapter of life opened for him, a chapter in which art predominated and the years of legal endeavour faded into the background. Nell (as she was known) was bored; she missed the informal café life of Paris, the friendships and daily contacts with fellow artists, and hated the approved social round of Wellington. Conscious of a sense of artistic isolation, her encounter with an aspiring artist, as remote from the social set of Wellington as she felt herself to be, was noted in her diary, in which she recorded her early meetings with John Hutton, her marriage, and the trend of their life during the final New Zealand period and the first years in England. (p 24)
They met at a friend's party, on 18 March 1931, and Nell's diary entry in May of that year reveals that they were still constantly together. … All this week John and I have drawn and painted in the studio. Line, line, line means everything to him. For him line can express form, tone, colour and movement. I can't quite accept it. He can draw but is at present too obsessed with technicalities. I have told him that I feel form is more important by itself than by shadow. We have argued incessantly. (p.25).
On 11 September 1934 Helen Blair and John Hutton were married in St Paul's Cathedral, Wellington. Before leaving New Zealand [for England, in March 1936] John and Nell held a joint exhibition in collaboration with a friend, Corrie Cameron, who had studied art in Paris with Nell. The lounge of Kirkcaldie and Stains, the principal department store in Wellingtonl, was the stage for the exhibition.
The exhibition received the following reviews:
An exhibition of the recent works of John Hutton, Helen Blair and H C Cameron was held in Krikcaldie and Stains' lounge early in the month. The works shown were in the modern idiom, being a selection of oils, water-colours, drawings and woodcuts in experimental techniques [Job. 1, verses 18 and 19] is a Biblical allegory expressed in terms of [Blair's] native background-New Zealand. [It] shows a formalization of New Zealand landscape more structurally interpreted. Journal: Art in New Zealand 1936
Some very striking examples of modern art are to be seen in the lounge of Messrs. Krikcaldie and Stains at the present time. The three exhibitors, Helen S Blair, H C Cameron and John Hutton, are all of them artists who make no excuses for their exploration of modern methods in the art of painting. The verdict of the public on what they produce will naturally vary according to the critics' taste, but there is no denying the interest of such paintings, although one can imagine an admirer of Constable, for instance, standing aghast before several of the landscapes presented by these artists. 'ÄúHelen S Blair is distinctly intriguing with her scene from the Book of Job and with her Abstractions' while some of her landscapes bear a distinct resemblance to the start formality found in some of the landscapes painted by old masters as backgrounds to their figure subjects. In some of the watercolour landscapes there is less aggressiveness.'Äù The Evening Post, Jan 31 1936
Helen S Blair's painting shows a strong attempt at control. The method of work-putting on separate dabs of colour with a knife-is not a better method than any other; it all depends how you use it. But there is respect for the material here with which the painting is painted-namely, paint. There are dabs of colour, not mixed muds. The colours alternate and contrive to dance in a pattern which suggests (but does not wish to imitate) the tremors of the sunlight, as in 'ÄúMetropolis'Äù, a street scene. In the landscape, the individual touches follow the form of the hills and heighten the effect of drawing of the planes. On a modest scale Miss Blair is quietly attacking the real problems of painting, ignoring and indifferent to the applause which can be gained by meretricious display. Journal: Art in New Zealand (1931).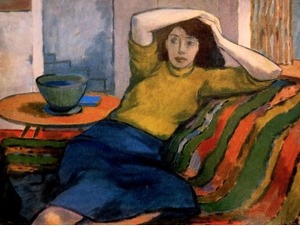 Nell Hutton (Helen Blair) at Landemere, by John Hutton