Literature: Llewellyn, Sacha, and Paul Liss. Portrait of an Artist. Liss Llewellyn, 2021, p.262.
NAVIASKY Philip 1894-1983
Painter, born in Leeds, who studied at Leeds School of Art, 1910-12 and the Royal Academy Schools, London, 1912-14, following a brief period there he was awarded a scholarship which he took at the RCA until 1916. He exhibited widely in the period 1914-40 and held a solo exhibition at the Harris Museum and Art Gallery, Preston in 1932. He also exhibited at the YUA, ROI, RSA, Ruskin Galleries and the RA. He is best known for his portraits in oil of women and children, and for his atmospheric landscape paintings and sketches of the Yorkshire Moors. Public galleries including Ben Uri, Leeds City Art Gallery, Laing Art Gallery, Leeds University Collection, Harris Museum and Art Gallery, Preston, Stoke-on-Trent Art Gallery and Whitby Art Gallery hold his work. A retrospective exhibition of his portraits was held in Leeds at the Rug Collection Gallery in 2002.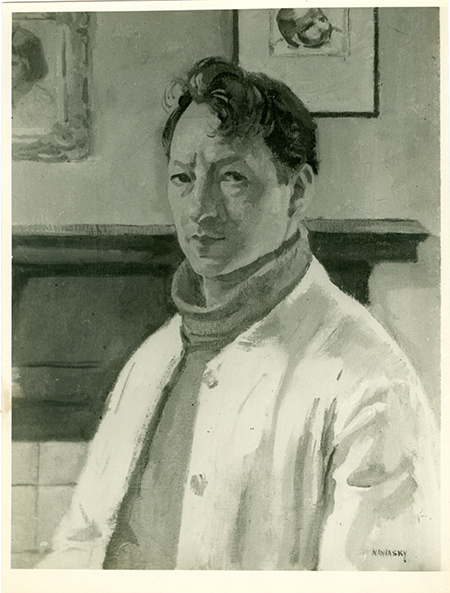 Self Portrait circa 1945 (Russell Cotes Museum)
With thanks to David Wade.